Hi there 49andMarket friends. Tina with you today to share my latest layouts using the gorgeous Vintage Remnants collection. For me when scrapbooking I usually find my papers first and then a photo but today I worked the other way around. Always nice to change it up.
The photo was accidentally printed in sepia but I really loved these colours with Vintage Remnants No 6. Paper. I wanted to add more brown into the background so I did some stencilling first up with a Burlap Stencil and modelling paste. I then added in some rusting powders while the modelling paste was still wet and then spritzed it down with vinegar and let it sit for a bit. I wiped off the excess once it started to change colours and then inked and gessoed over the texture.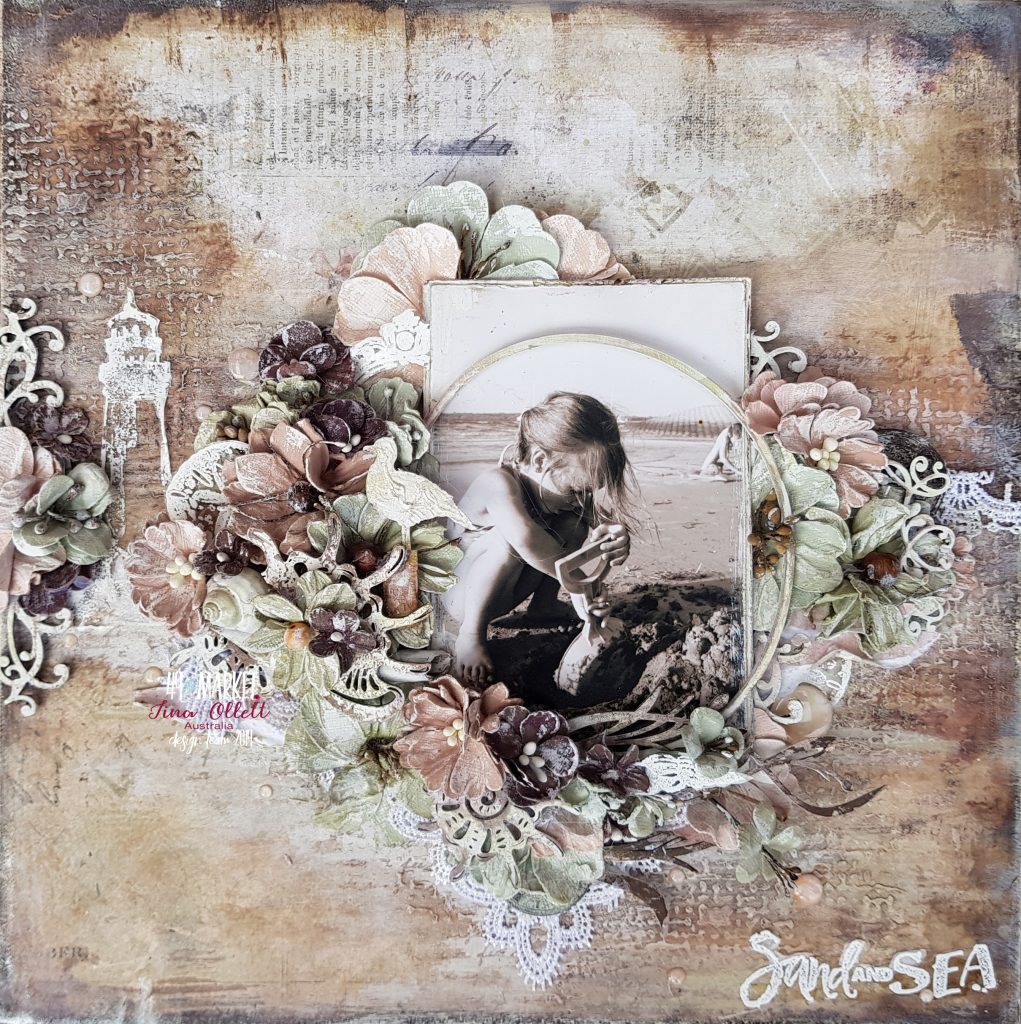 "Sand and Sea" – Vintage Remnants by Tina Ollett
It is no big secret that I love to use flowers and on occassion lots of them. For this layout I used quite some and then more. The Seaside Blooms have been a huge favourite for me while being on the team and the colours I have used ( Sandcastle and Aloe) are a perfect match. Some of the flowers have been cut in half and some of the flower layers have been split to make the flowers go further and also to give the impression that there are actually more than what you see. As I always do with my beach layouts is to add a touch of shabby and the beach worn look. To do this I simply dry brush my layout and embellishments with white gesso. This often tones the colours of the flowers as well as other embellishments used.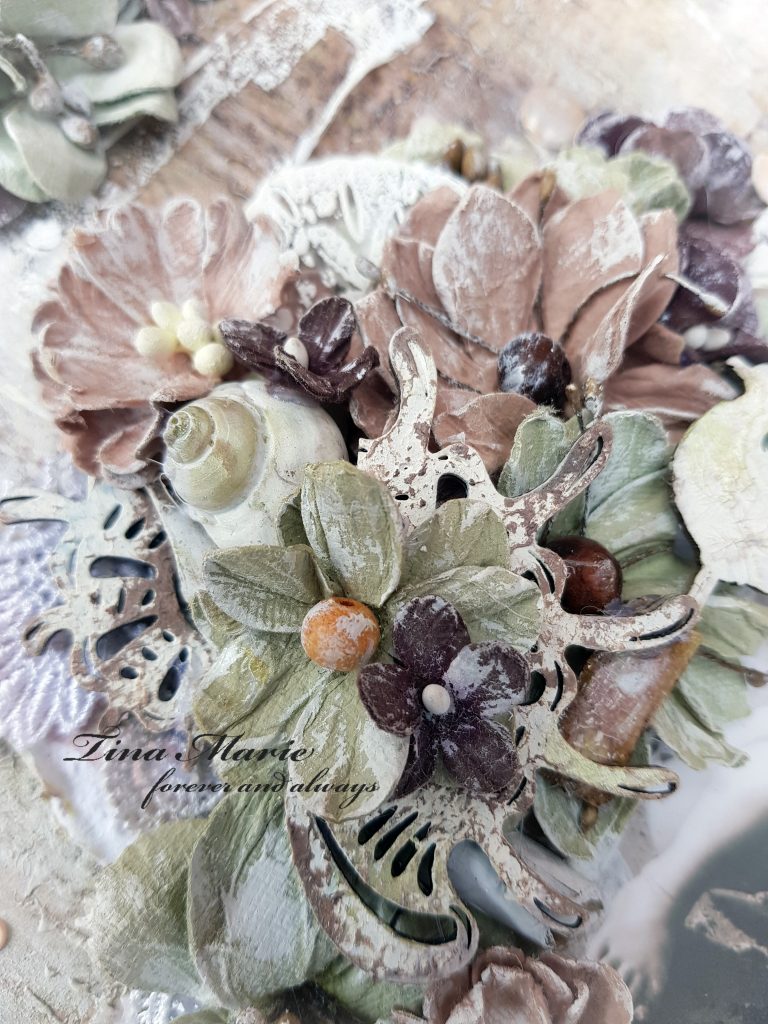 Once my photo which was matted with a piece of the Bold and Beautiful's "To the point" I clustered and layered my flowers amongst some Dusty Attic chipboards along with some shells, sections of lace and some acetates embellishments made with the Sand and Sea's collection stamp set. I do this using embossing powders and the images from the stamps. This is another great way to use your stamps. I started to do this many years ago because back then I was quite fussy with positioning of embellishments. I found this the best way because if I didn't like the positioning I could just move it. There is always ample amounts of acetate embellishments on my scrap desk to use at all times. So for this layout I have also used the title from the Stamp Set along with some of the shells and the gorgeous lighthouse. Every beach layout needs a lighthouse don't you think?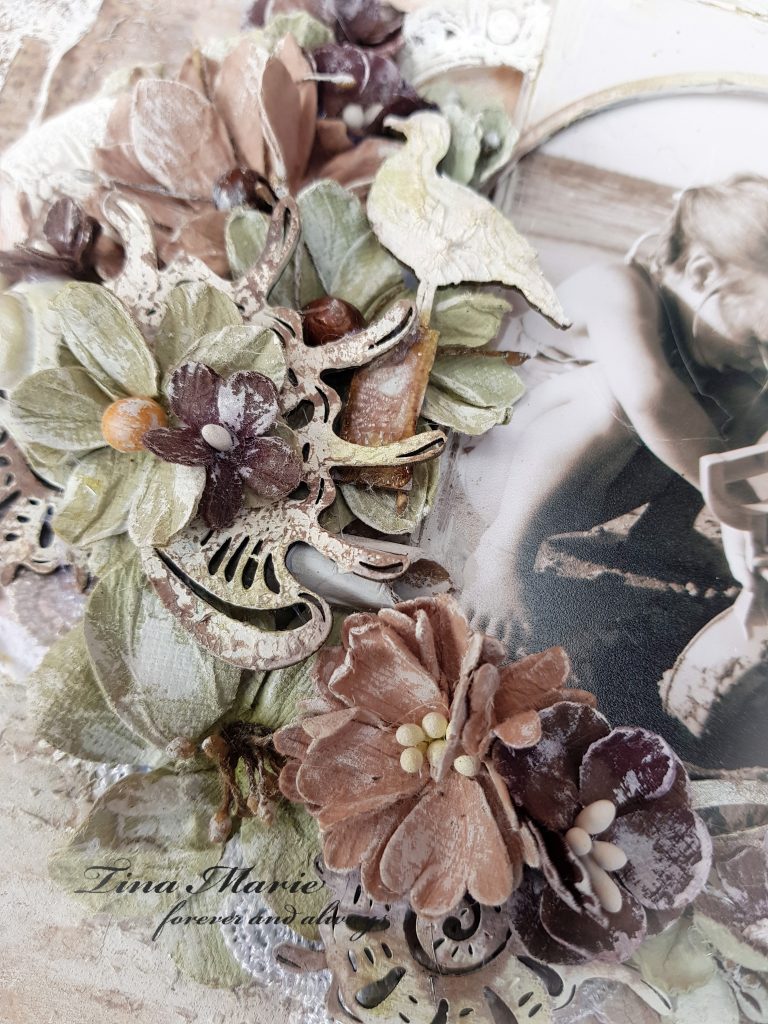 I have also torn some sections of my left over Bold and Beautiful's "To the point" to add more colour of the apricot / pink to my layout.  Lastly I added in some cute Wishing Bubbles. These I absolutely adore. I didn't need to use many for this but it makes all the difference.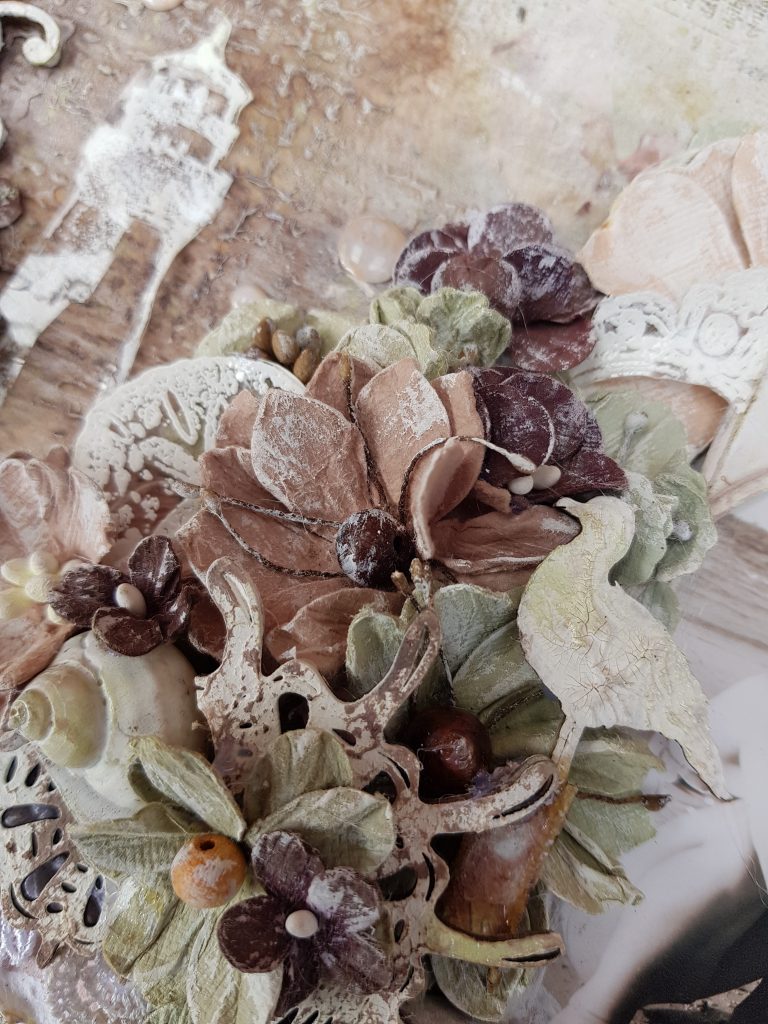 Well that is all I have for you today. I do hope you have enjoyed my "Sand and Sea" project today. Stay tuned for more gorgeous Designer work coming your way tomorrow.
Until next time take care and happy scrapping.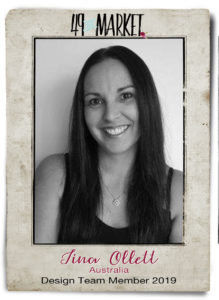 Teen x
Bold and Beautiful – To the point           
Seaside Blooms – Sandcastle
Floral Mixology – Mudslide
Liquitex Gesso White and Clear, Inka Gold – Mintgreen, Distress Ink Ground Espresso and Walnut Stain, White Embossing Powder, Versa Mark Ink, Acetate Paper, Modelling Paste,
Dusty Attic Chipboards, Dusty Attic Burlap Stencil, Lace and shells.