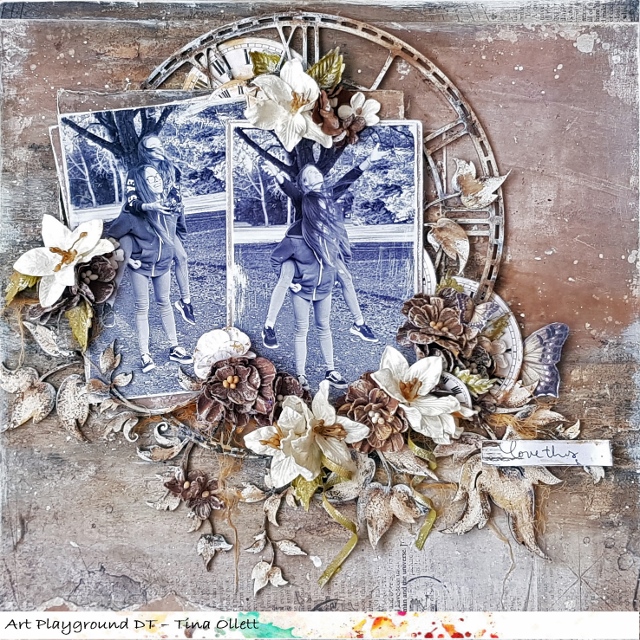 A big hello to you and thankyou for joining me here today.
I was so very excited when I saw the October moodboard more than ever. These warm colours are where my heart really is. So the other part of the October Play of course this month is "My Muse" and for me that really is an easy one. Well maybe sometimes because lets face it if you are just not in the right frame of mind creatively the mojo will just not come. But my Muse comes from nature this time around and of course my children. They inspire me endlessly. We took a month out of our busy lives this year to take a trip around New Zealand. Such a beautiful country and one afternoon whilst hubby was taking a nap the girls and I went for a walk in a gorgeous nearby park. I think from memory it was called Queens Park. I remember my youngest raking up the orange and brown leaves from the ground and throwing them up in the air whilst sitting on her oldest sister's back. They were having a wonderful time. Many giggles were had, I can still hear them now. ………. so there fore I have titled this layout……"Love this". Yes nature this day was diffently my muse.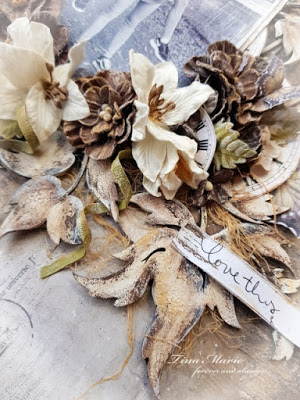 I also did some background work on papers from the Captured Adventures and Rusty Autum collection of 49andMarket. I used Art Paper Paste as a medium with Rust Paste and gessos in black and white over the top. Unfortunately the photography here does not give a true example of this.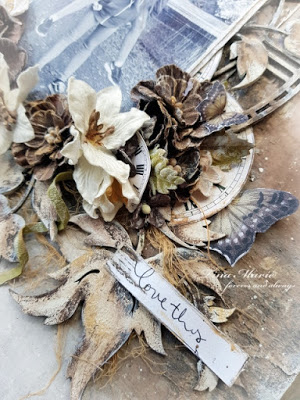 I decided to use some beautiful Dusty Attic chipboards (Skeleton Frame and Leafy Accents) to represent the leaves and the colours from the colour scheme of the board. I have used Rust Paste and Distress Inks in Walnut Stain and Rusty Hinge to create these textures and colours. At the end I added in a little olive green as I wanted my layout to pop a little more than it was.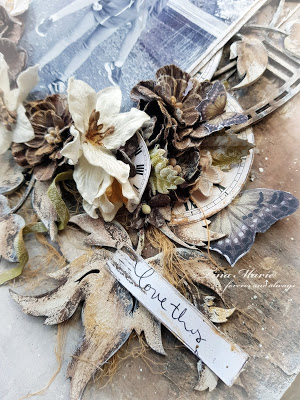 I added in some beautiful flowers from 49andMarket. The Floral Mixology collection in Mudslide and Pina Colada, to embellish my page further along with some cheesecloth that I coloured with Rusty Hinge, Vintage Photo, Walnut Stain and Ground Espresso Distress Inks. The stamens of the flowers were also changed up with the inks.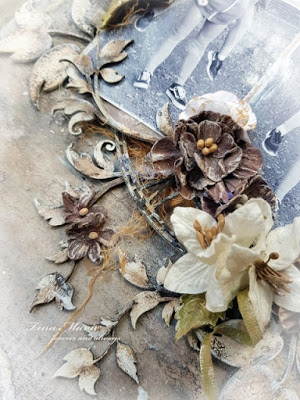 And from another view. I have added in some Laser cut -shape clocks from the 49andMarket collection of Dandelion Paradise to represent he nostalgic side of this layout.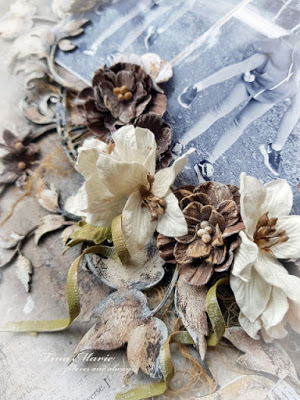 I hope you enjoyed my project today. I hope it bought you some inpiration.
Thanks for joining me here. Until next time happy crafting.
Tina x