Welcome back crafty friends. Today I have something pretty and purple for you. Something, that going back 5 years ago I would not have tackled. But over the years on 49andMarket the colour schemes of purple have always pulled me to them. So I have Janene to thank for this. Purple is one of my favourite colours to use nowadays.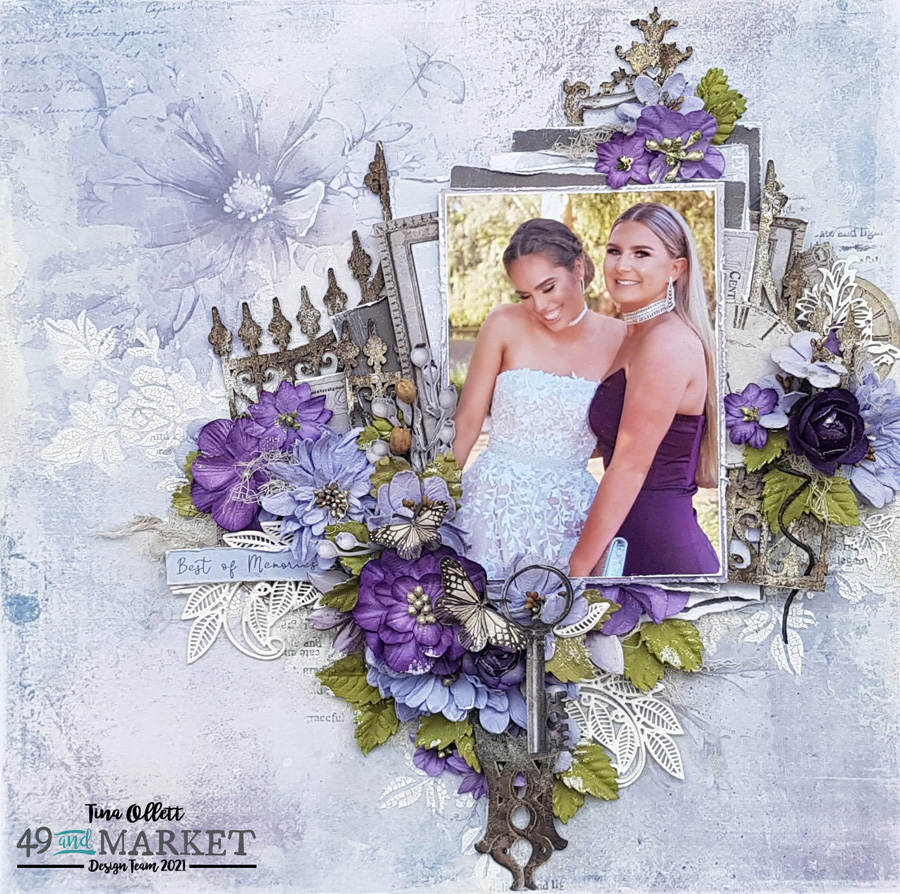 This project called "Best of Memories" was created using a photo I took of my gorgeous daughter and her beautiful friend at their graduation for year 12. While I have many favourite photos from the shoot, I adore this one. Not posing, but caught off guard when I called out to them. They really are the photos that I love to use the most.
To start my project off I used the "b" side of the cover sheet from "Irrevocable Beauty" and primed it with a clear gesso. Over this I added in some texture using white crackle paste through a stencil and allowed it to dry. I then added in a little stamping, using archival in the colour of "Watering Can" and the script stamp from Gabi's Label Stamp Set.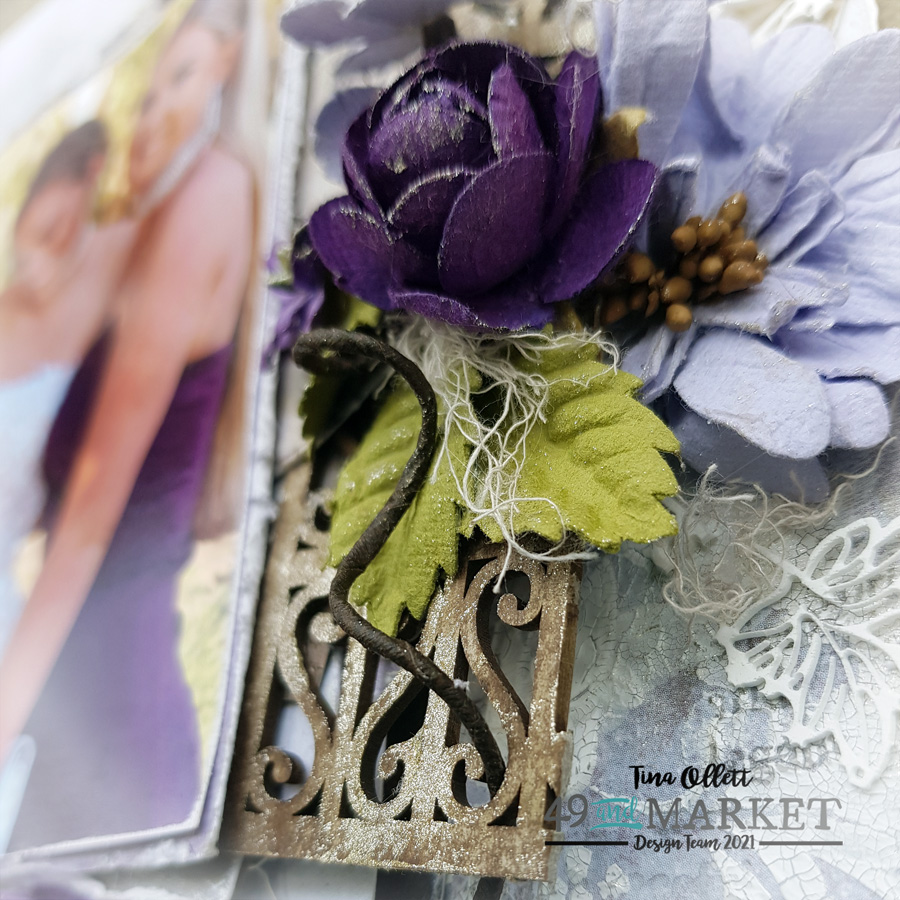 I used an older Christmas collection from 49andMarket called "Snow Covered Trees" along with the sheet "Timekeeper" from the Irrevocable Beauty collection and cut pieces to make layers to go behind my 4 x 6 inch portrait photo. I used both sides of each of the papers to keep a layering of colours that will co-ordinate with my project. I also added in some laser cut pieces from the Vintage Remnants collection pack. I have used the frames, clocks and key along with the gorgeous butterflies.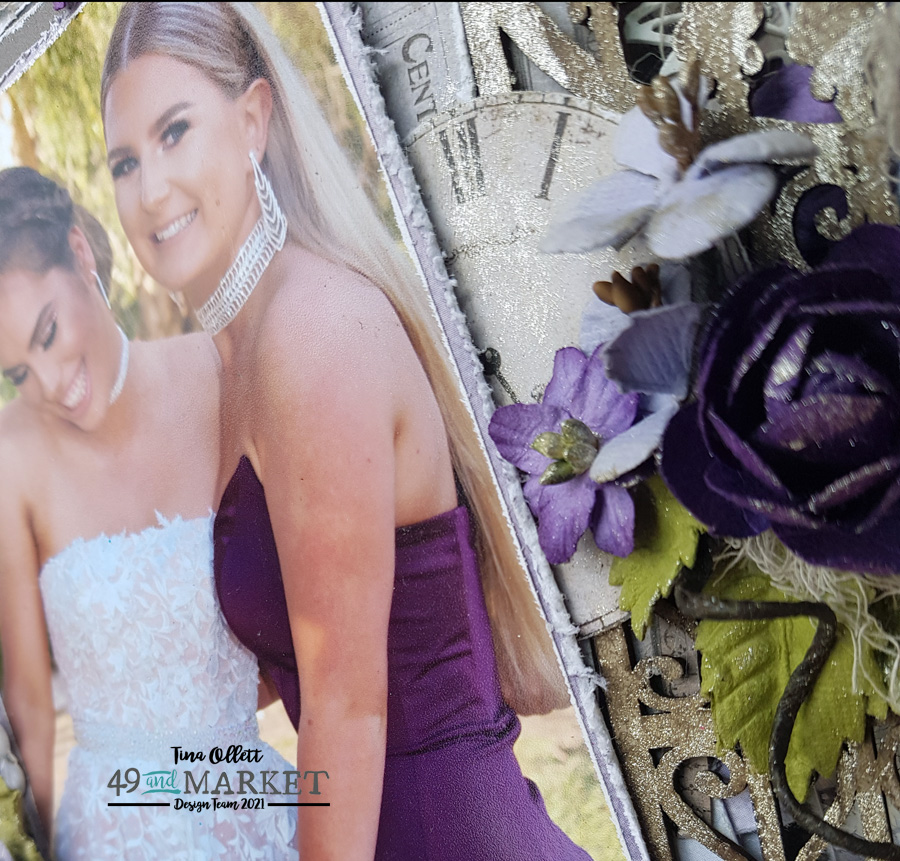 The Dusty Attic chipboards were added amongst the paper layers of my photo to give some more interest. These pieces were
dressed in distress inks and stamp paints and cut to fit. Once all these pieces were adhered to the page I started to make the clusters
of flowers. To do this I used the gorgeous Twiglight colours from the Garden Petals collection and the violet from the Country Blooms collections to match the dress in my daughters friend's dress. It was a match made in heaven. I cut some of my flowers in halves to go further around the layout. Some of the centres of the flowers were changed up by dressing them in a little stamp paint. I also added a little shimmer to the flowers by dry brushing them with the stamp paint too.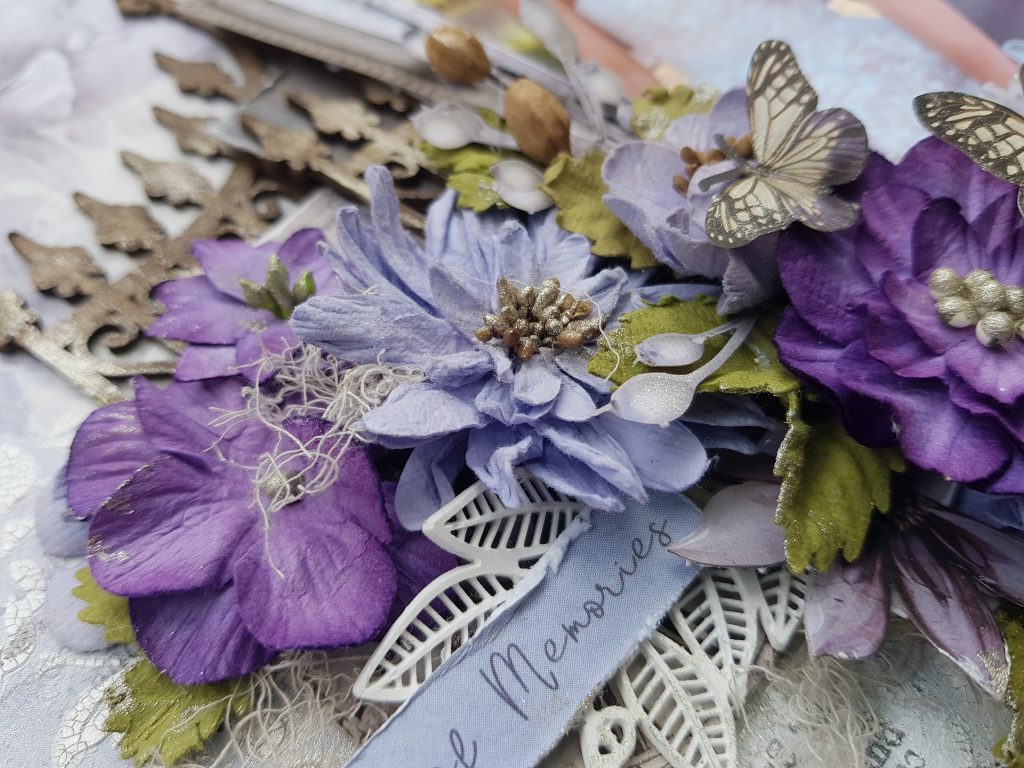 My final touches to the layout included the addition of some handmade paper lace that was cut into pieces and adhered with a clear drying glue. Also I coloured some cheesecloth in the stamp paint spritzed with a little water to help it colour properly. It was dried and distressed and added amongst the clusters using a clear drying glue also.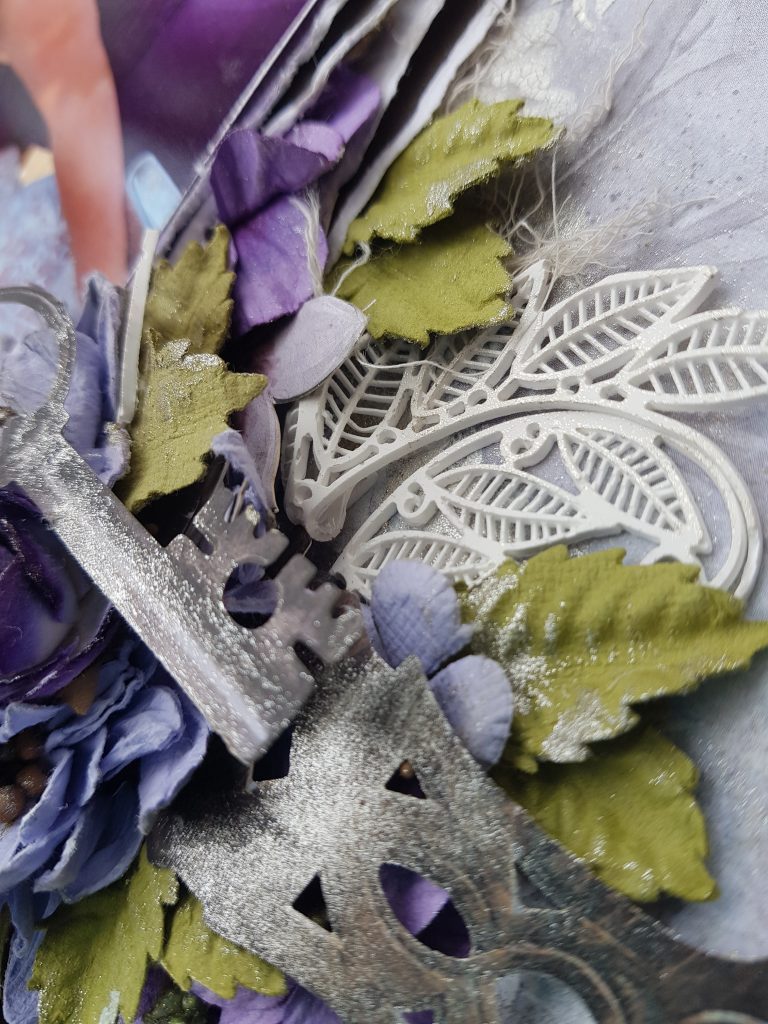 Well that is all from me today. I do hope you enjoyed my project. For those who are looking for this project as a kit you can find it in the New Kits section of the website here:
Thanks for popping by. See you again soon.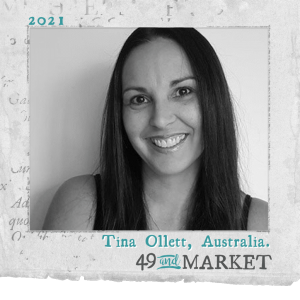 Tina x
49and Market Products Used:
Cover Sheet from Irrevocable Beauty
Irrevocable Beauty -"Timekeeper"
Winters Edge – "Snow Covered Trees"
Laser Cut Sheet from Vintage Remnants
Garden Petals – Twilight
Country Blooms – Violet
49andMarket Stamp Set – Gabi's Label Stamp Set
Other Products
Liquitex Gesso Clear
Dusty Attic Ornate Gate #2
Dusty Attic Antique Frame
iCraft Layering Stencil #8545
Ranger Crackle Paste
Viva Decor Stamp Paint – Silvergold
Distress Ink Ground Espresso
Paper Lace Leaves
Tina Marie – forever&always
www.tinamarie.com.au