Hello and welcome friends. Today I am with you to share a project created for 49andMarket using the beautiful Old School Mini collection.
My starting place for all my projects is my photo. And sometimes finding the one is an absolute nightmare! It is not ever because I don't have enough photos, believe me, I have more than enough but it is just the start of the project which seems to always stump me. So what does one do when in doubt ? Well, they ask their children of course. My children are always so honest with me and lets face it they have been around scrapbooking for as long as I have. And they usually see something that I don't. So I went to my eldest daughter and asked which photo was the best. I had pulled about 7 photos and all but one were vintage. Her response was that yes I can see what you are thinking with the vintage photos Mum, but the beach photo has much better colours. I went with that immediately and two days later this is what I came up with. I hope you enjoy it as much as I did creating it.
This is "Schools out for summer"….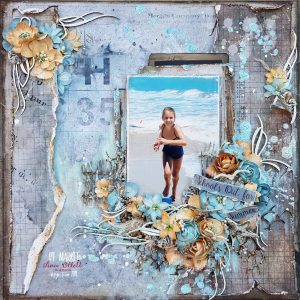 For my project I have used the "Old School" Mini paper collection. Oh my this is an amazing mini collection ! If it is not in your collection yet it really should be on your wish list. I can't wait to do another project with this range. I have used "Schools out for Summer", "High School" and the "Old School Collection" papers. I did some tearing of the  "Schools out for Summer" paper and adhered to the "High School" paper. I added in some texture using a Splatters stencil with Texture crackle paste and Inka Gold's mixed together. I also added more colour with some Weathered Wood Distress Ink and water. I used the book pages from the centre of the "b" side for the photo matting and layered these with some foam tapes.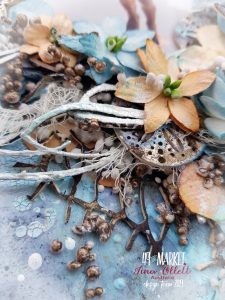 Once all my paper layers were adhered down I did a little random stamping using Pascale's Rations Stamp Set with Potting Soil in Archival ink. I then started on layering my flowers and archival boards. For this project I decided to use two sheets of the Archival Boards "Escape" and "Never Stop Exploring" in the white and also two packs of the stunning new Cottage Blooms in "Sky" and "Ginger" . You can never have enough flowers I think. I also added in some of Dusty Attics chipboard Doodads. My chipboards were all primed in a clear gesso and coloured using Rust Pastes, Inka Golds in Turquoise and Aquamarine.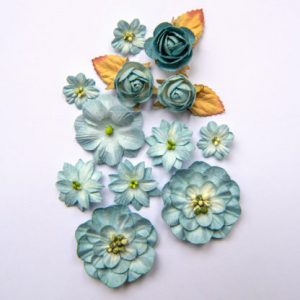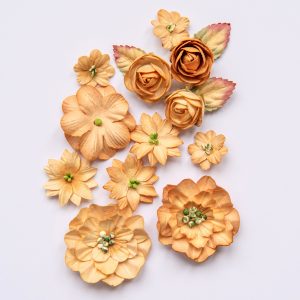 Some of my archival boards were cut in half and some in thirds like the picket fence to help with layering, and also to make them go further. I gave the picket fence a real distressed look just like you would see at the beach. I added in some real shells as well as my archival shells and also some art stones and tea dyed muslin. The art stones were coloured using Mica Powder in Rust colour and I also did a little white washing of the layout to keep with the beach feel.
49andMarket Products used:
Old School "Schools out for summer"
Old School "Old School" Collection Pack
Archival Board "Never Stop Exploring"
Pascale's Rations Stamp Set
Other Products used:
ArtExtravagance Rust Paste
Artingredients Mica Powder
Artingredients Art Stones
Gel Medium
Liquitex Clear Gesso
Liquitex White Gesso
Tim Holtz Distress Ink Weathered Wood
Tim Holtz Distress Ink Ground Espresso
Tim Holtz Stencil Splatters
Ranger Texture Crackle Paste
Ranger Liquid Pearls White Opal
Tea dyed muslin
Well that is all from me today. I hope you enjoyed my project and blogpost . Remember to stay tuned for more Design Team gorgeousness!
Until next time take care and happy crafting.
Tina x