Hi there and welcome !
Today I have another beachy project to share with you created with some of the many stunning new release chipboards from the Dusty Attic. They have now all been uploaded to the website so you can pop on over to see all these gorgeous beauties here. So once I opened my box of goodies I was straight into my art room to create, and of course it had to be something very beachy with lots and lots of chipboards.
This is "Seaside Serenity"…….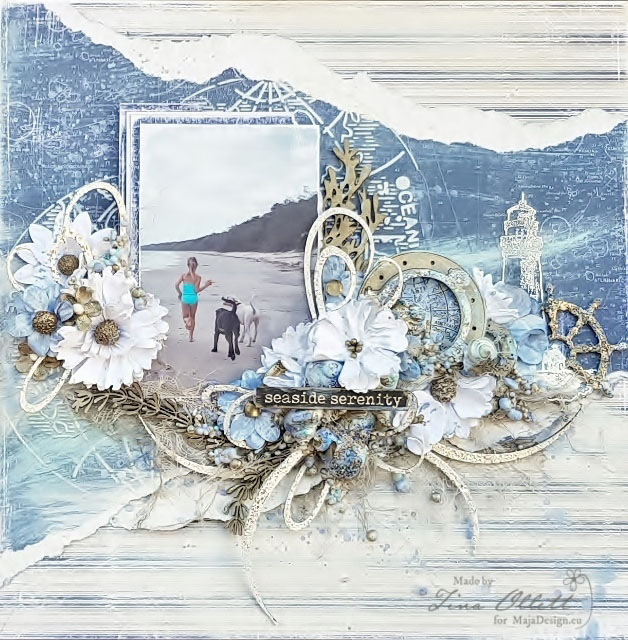 I decided to combine both my Design Team projects from Maja Designs and the Dusty Attic. Maja have just released their Moodboard for this month and there is nothing more I can say than this is just the most gorgeous moodboard. See for yourself below.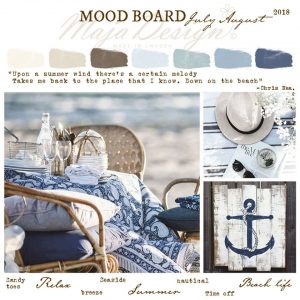 Starting off my layout I used gorgeous "Life by the Sea" papers from Maja Design. I layered 2 torn pieces of the a side of Landmark over the top of the b side of Regatta. I used the new Dusty Attic Stencil World Map with some Texture Paste and created a little texture to start. Isn't this a great stencil……. I am in love with it!!!
I then used the left over of Landmark to frame my sanded photo.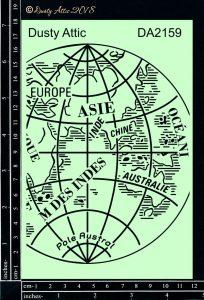 Stencil DA2159 (World Map)
My next step was cutting up two of the swirly frames and dressing them in embossing powders. These pieces were added around the photo and clusters of flowers and other chipboard to help frame them. I made the tails of these pieces very dimensional by simply curling them up and gluing them in place.
I have also added in some coloured cheesecloth along with some art stones that you can see here below.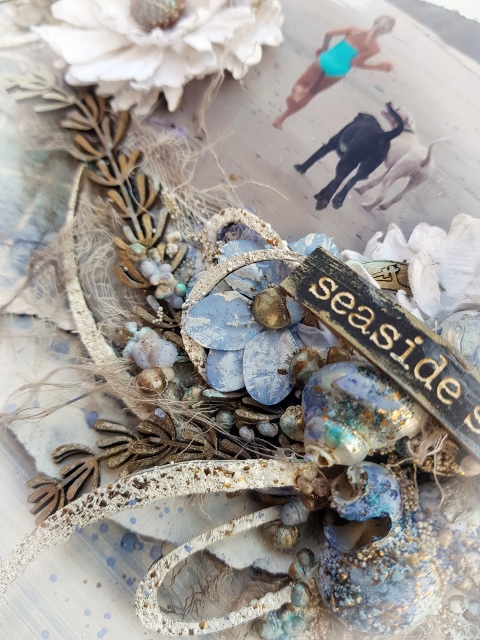 I also added in some shells that I dressed in many different embossing powders and art stones.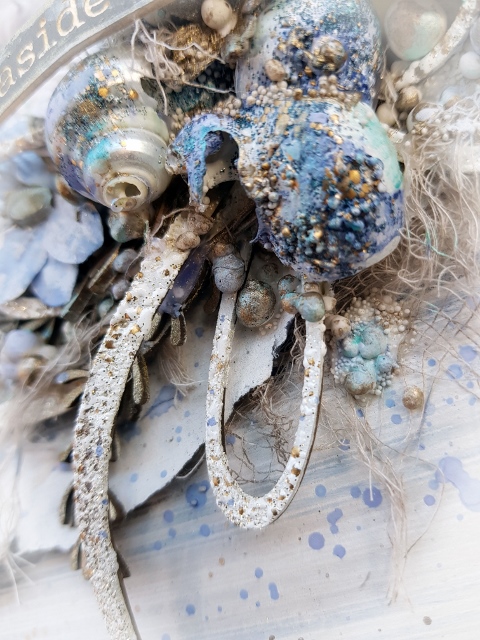 Below is my extra pieces of chipboards that were used on this project. Some new some older pieces. But I have to say that the Port Holes are my new favourites….. most definitely new favourites. Below I have some more close-up of what I did with the Port Holes.
So below you can see the large Port Holes. The pack is a 3D pack. Yes you can layer them. How awesome is that! I have also added in an extra piece behind the Port Hole which is the World Map (1/2 of it ). And under the large Porthole I have added in the mini Port Hole with a Mini Ships Wheel added over the top of it. Oh I love these pieces so darn cute …… Thank you Jennifer Hedger …… you've done amazingly once again!!!
So these pieces have all been dressed in many differing mediums. Some in Perfect Pearls some in Inka Golds with Embossing Enamels. There many layers of medias added to these pieces to get the exact colouring.
Amongst my clusters of chipboards I have tucked in some Dusty In Bloom Blue Bonnett flowers which were the perfect colour for this project. I have also added in White Botanicals from 49andMarket. I also created some acetate pieces to added into my background using embossing powders and the stamp set from 49andMarket's Sand and Sea.
And I have also listed a complete list of all the other products used for this project:
Distress Ink (Chipped Sapphire), Versa Mark Ink. Embossing Powders ( Aged Marine, Shabby White, White, and Gold), Perfect Pearls Heirloom Gold, White Gesso, Clear Gesso, Acetate, Art Stones (Large, Small and Mini), Inka Gold Cheesecloth, 49andMarket Stamp set (Sand and Sea Lighthouse), 49andMarket Botanical Blends Snow.
Well that is all from me today. I do hope you enjoyed my project!
Take care and happy crafting. xx