Hello and welcome today friends. Tina Ollett with you to share my next creation for 49andMarket. My project today has been created using the fabulous Vintage Remnants collection of papers. The purple and yellows in the papers of No 1 really appealed to me. The background details in it are really quite stunning so I wanted to keep my layout pretty clean. I had a special photo in mind for this project which I have never used before. It has been kept deep in my stash of old photos mainly because of the colours which are not the norm. The special photo is of me, yes me, from a little while back…… hehehehe. And this is what I came up with.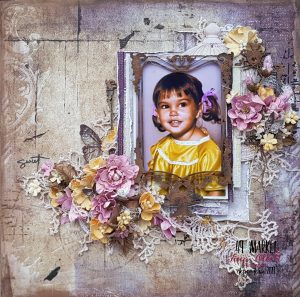 My background was of course Vintage Remnants No 1 that I have talked about. I added in a little stenciling using the Dusty Attic Ledger stencil with some Rust Paste. When it dried I wiped over a little Inka Gold to give some shimmery highlights. The Vintage Remnants No 3 paper was used to add layers behind my photo. I also used some yellow pieces from an older range Scents of Nature – Chatty Birds. This paper had a large birdcage on it also so I have used it amongst the layers behind my photo.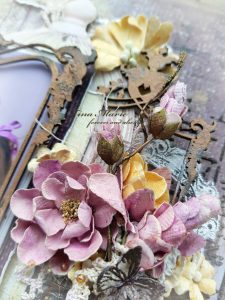 My daughter recently made a trip to a market in the city a couple of weeks ago. She bought me back a fabulously big bag of doilies. It is so scary that she knows me so well. The stained old doily was the perfect addition to my project. I cut into the doily and distressed it a little. I ended up only using half of it. This was adhered to the base of the photo where I embellished over the top of it. I have framed my photo using some Dusty Attic Vintage frames that were dressed in Inka Gold and Perfect Pearls.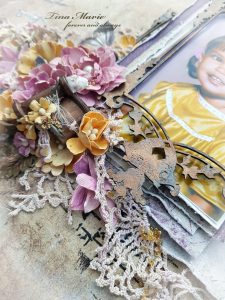 Next was the fun part embellishing my layout with flowers and some acetate butterflies. I chose to use some older flowers from the Vintage Shades collections. The orchid colours matched my photos and papers perfectly. The 49andMarket flowers have a fabulous range of flower colours and might I say perfect tones to match every paper collection that is revealed. I have also used some Botanical Potourri flowers to compliment the photo. Maybe not as bright as the photo  but I felt that was a good thing as it allowed the photo to shine.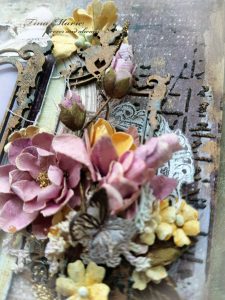 Moving along I decided I needed something a little more. The addition of some handmade acetate flowers and the Title word "Sweet" were all made from the 49andMarket Stamp Sets from Gerry and Gabi. These were powder embossed on acetate and cut out. This is just another way to use your stamps that would somehow not get used normally and it is a cheap way to do so. I adhered these to my layout using some clear drying glue. I also added in some seed beads in smaller and larger sizes in gold to highlight areas of my layout.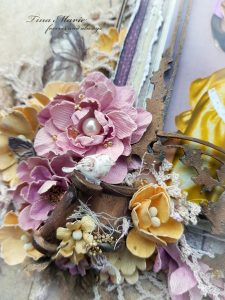 So that is all that I have for you today. I hope you have enjoyed your visit to the 49andMarket Blog. Until next time happy creating.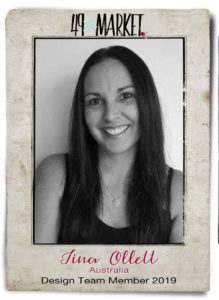 Tina
49andMarket Products Used:
Vintage Remnants Paper No 1
Vintage Remnants Paper No 3
Scents of Nature – Chatty Birds
Vintage Shades Cluster Orchid
Botanical Potpourri Yellow
Gerry's Butterfly Stamp Set 4 x 6"
Gabi's Word Stamp Set 4 x 6"
Other Products
Dusty Attic Vintage Frames
Dusty Attic Stencil – Ledger
Rust Paste
Wood Cotton Spool
Tea Stained Muslin
Old Doily
Acetate
Nuvo Chocolate Embossing Powder
Nuvo White Embossing Powder
Inka Gold
Liquid Pearls
Prills – Gold
Seed Beads – Gold