Hello crafty friends and welcome. Today I have a combined creation of 49andMarket, Dusty Attic and Shimmerz Paints to share with you.
So today's project layout is titled "Handsome Boy" and you will see why when you scroll to the photo below………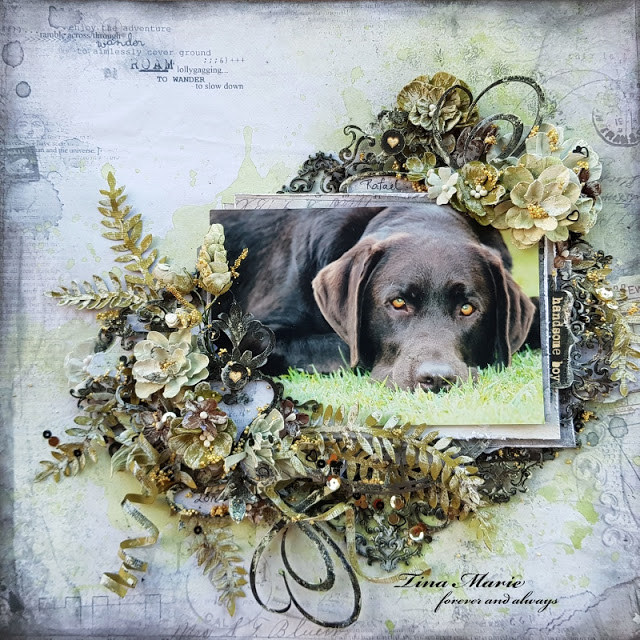 Please meet Rafael, my chocolate shadow and partner in all things! The reason I say this is that this big guy does not leave my side pretty much at all. I will leave a room and regardless of wether or not I only just entered the room he will only be two steps behind me. And don't ever close a door behind you because he will sit and wait and wait and wait and ………….wait! I love this boy and his special ways. Never have I owned a dog that is this loyal and patient.
So now about the project.
My starting point for "Handsome Boy" was selecting my background paper which is of course from Captured Adventures. It is fast becoming my go to papers. I have selected Wander Aimlessly as it a neutral piece that I can add the colours that I need. And to do this I spritzed the background paper with some gorgeous Shimmerz Spritz in the colour of Bamboo Leaf. What a great colour. It worked perfectly with my photo. And to pull the paper into the spritzing I did some stamping focusing on the area around where the photo will sit with the Faded Damask Stamp.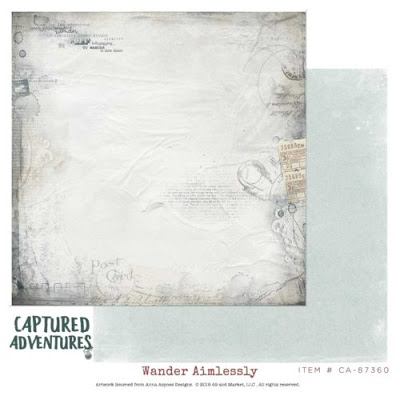 Wander Aimlessly
Shimmerz Spritz – Bamboo Leaf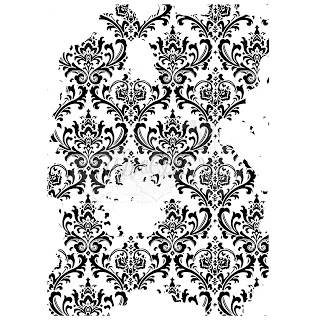 Faded Damask Stamp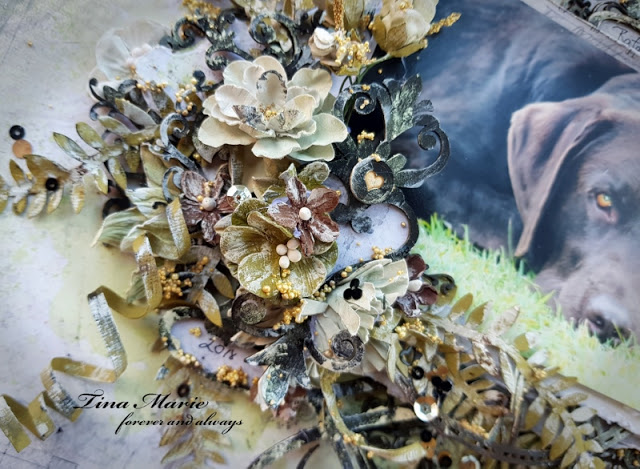 I used a second piece of Wander Aimlessly and cut some matting for my photo which is a landscape
4 x 6 inch. I also did a little tearing and tucked these pieces at either side of the matting layers.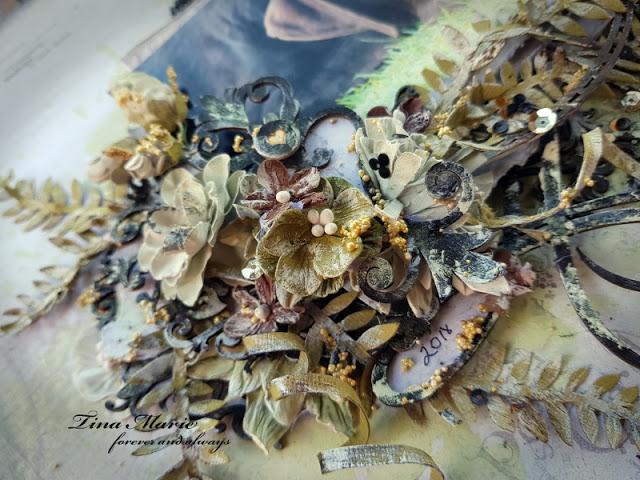 I firstly adhered the matting to the layout and then went to work on add my chipboards. These were painted in Dusty in Colour Soot. I then swiped some Shimmerz Paste-eez ( ) very randomly over this to create highlights. And to make the chippies a little more noticeable I have also added in some sprinkling of gold prills and Dress My Craft Sequins in golden black.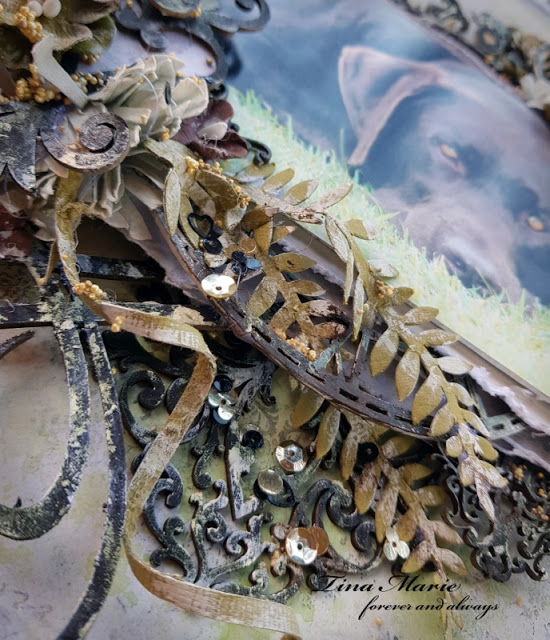 Here you can see more closely the layering of the Fleur de Lis. I used the whole set plus one extra and cut them in half to go most of the way around the photo to help make it pop a little more.
I have also added to these layers a 6 x 6 skeleton clock that I have coloured with a brown ink and random splatters of Dusty in Colour Soot and white Gesso.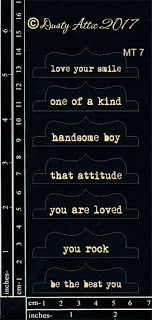 Mini Tabs #7 Black
And this is the pack of gorgeous black tabs that I have used for my title.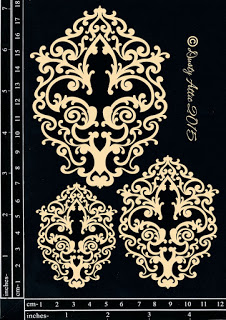 Fleur de Lis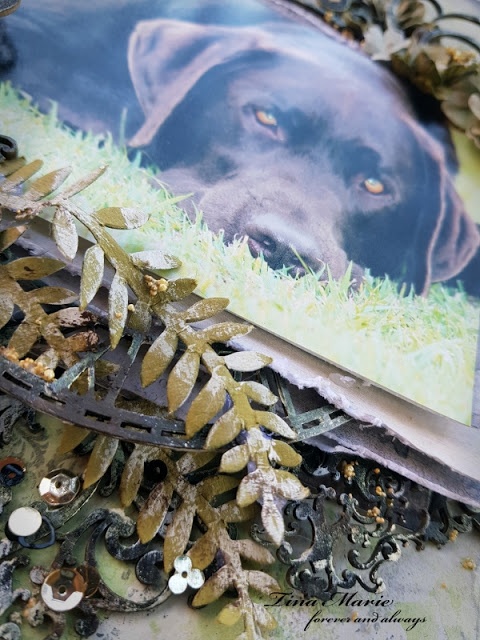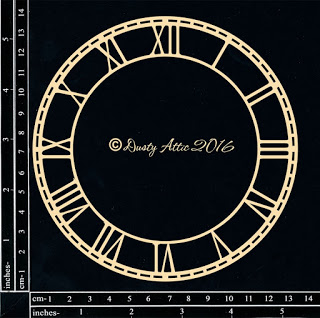 Skeleton Clock DA1689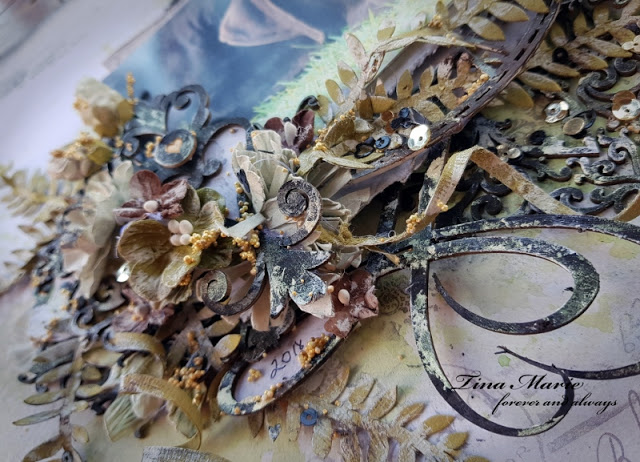 From this view you can see the bottom half of the Swirly Frame. I cut the frame in half and elongated it. I added some leftover pieces of Wander Aimlessly to the oval sections of the frame and wrote Rafael's name in the top part and the year date at the bottom. You can also see the Fancy Flourish #2 here which has been layered amongst a large clustering of flowers and vines. I have also added a heart dot from the Decorative Dots pack in black. Just too darn cute these little dots.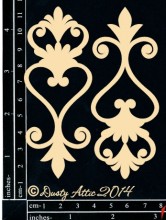 Fancy Flourish #2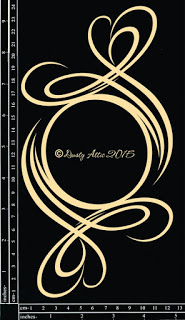 Swirly Frame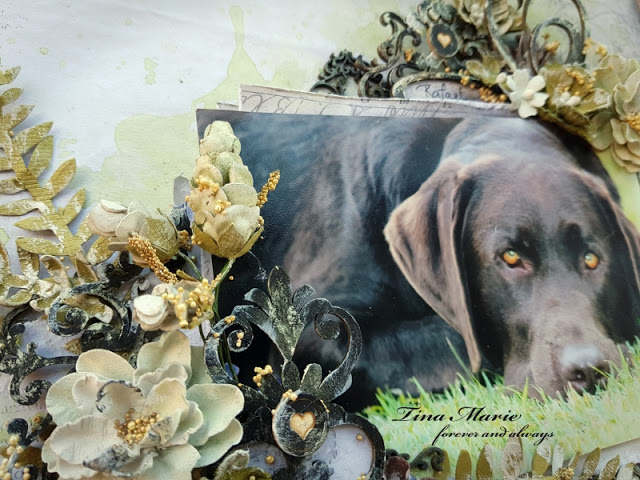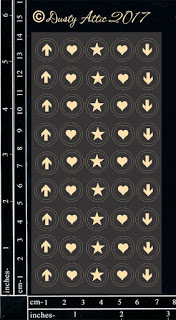 Decorative Dots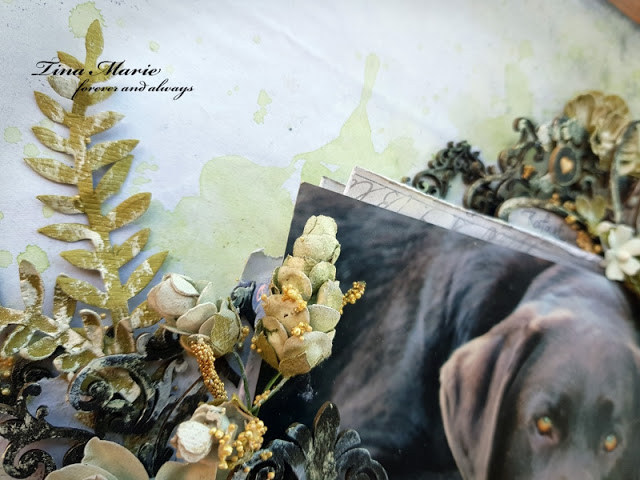 And below are the flowers that I chose to accompany the page.
I have to say Sage is a great colour. I have also added in some leftover vines from other packs of 49andMarket flowers. And the new release packs of the Vintage Shades now have the cute stemmed flowers that are just adorable and I just love to use.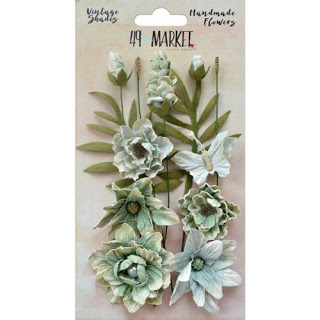 Sage
I have only used the olive coloured flowers from the Emerald Isle collection.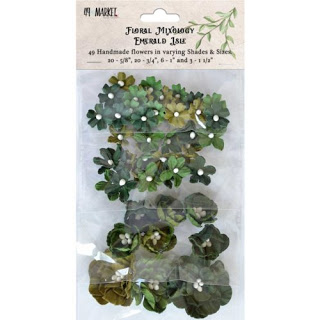 Emerald Isle
And I have also added in a few of the smaller Mudslide flowers.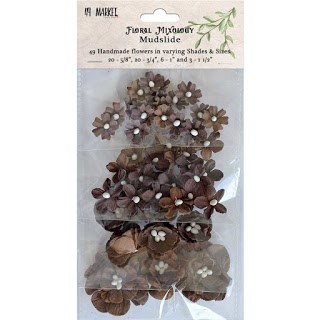 Mudslide
Please remember that if you are looking to purchase any products used in this project you can just click on the link below the photo which will take you straight to the website. And also if ordering from Shimmerz just add my name in the contents box and you will receive a free gift with your purchase
Well I think that is pretty much all from me today. It was a very long post but thankyou for reading through to the end. Until next time take care and big hugs.
Teen x