Hi there and a huge welcome back Dusty friends. Tina with you today to shock the pants off you!! Haha …. ! Yes I think I most certainly will. Today I have a double layout, yes you heard right. A double. The the last time I think I created one of those was way back when I first started scrapbooking. Recently I have been seeing a lot of my South African crafty friends doubles. For a long time I have been a huge fan of the one and only Adri from our Dusty Design team. She has inspired me to do one for myself. But I could never ever do the beautiful doubles that Adri does, ever. It truly is amazing work and one I would love to be able to do like she does. But the other thing I have done with this creation is used very little flowers and have left the majority of the layout to speak for itself with the gorgeous chipboards from Dusty Attic. I was lucky enough to receive the new "What's New Wednesday" new releases. And this is what I did with them. I hope you enjoy my post. Remember I will list everything at the bottom where you can find all these beautiful goodies.
This is "In my garden"….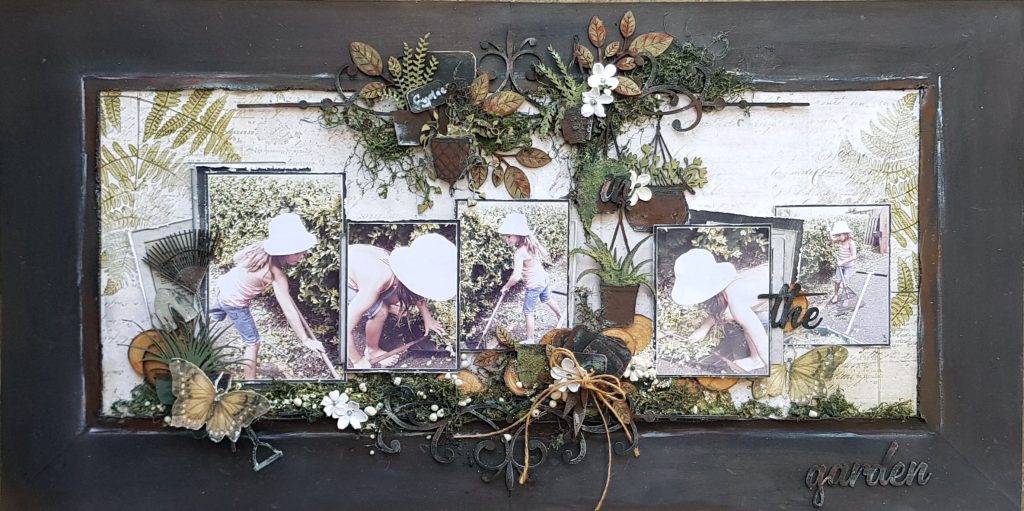 The framework of my layout was made up of two 12 x 12 frames from 49andMarket's Serendipitous collection. I added rust pastes to this to highlight the frame a little more. For the centre I used the first ever collection from 49andMarket, the Vintage Artistry. I have also used a sheet of black patterned paper from the Old School collection so I really mixed it up.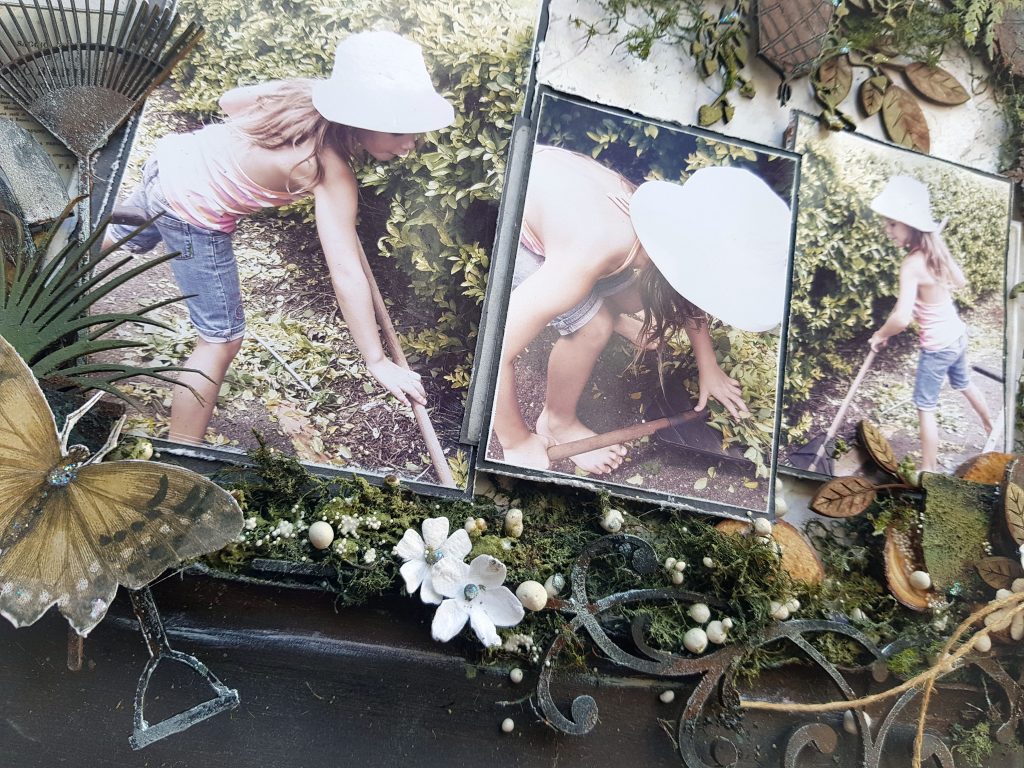 Once all the background work was done I went to work on colouring my chipboard pieces. These are colours that I have never really used before so it was all just a learning curve but I truly enjoyed it.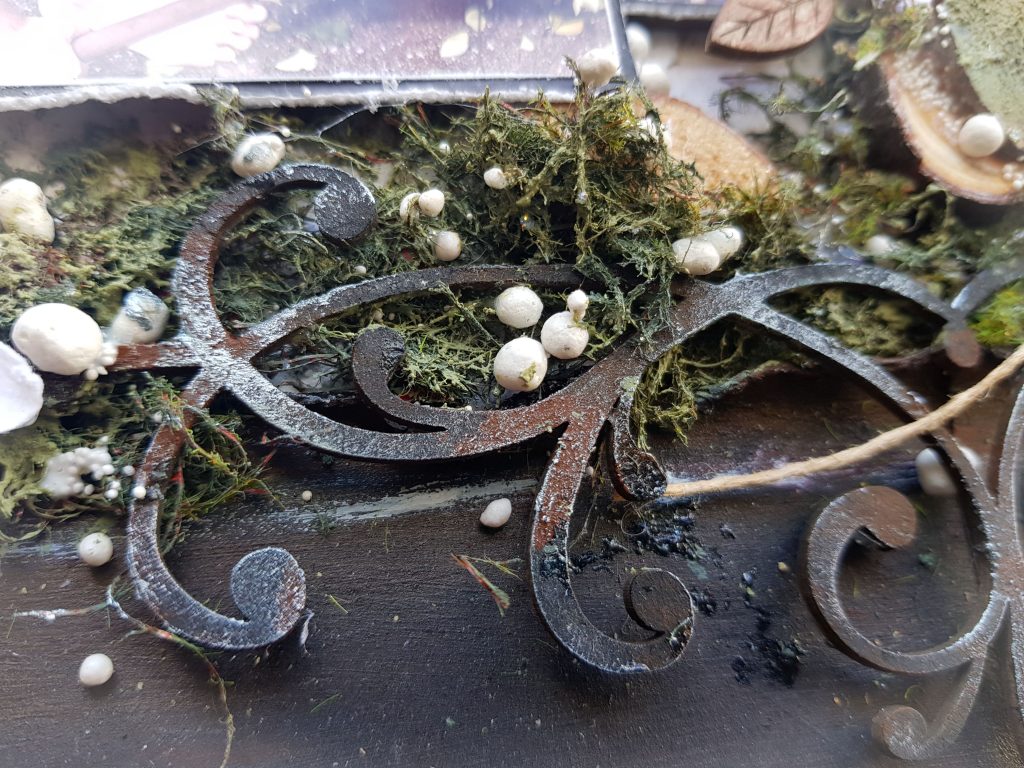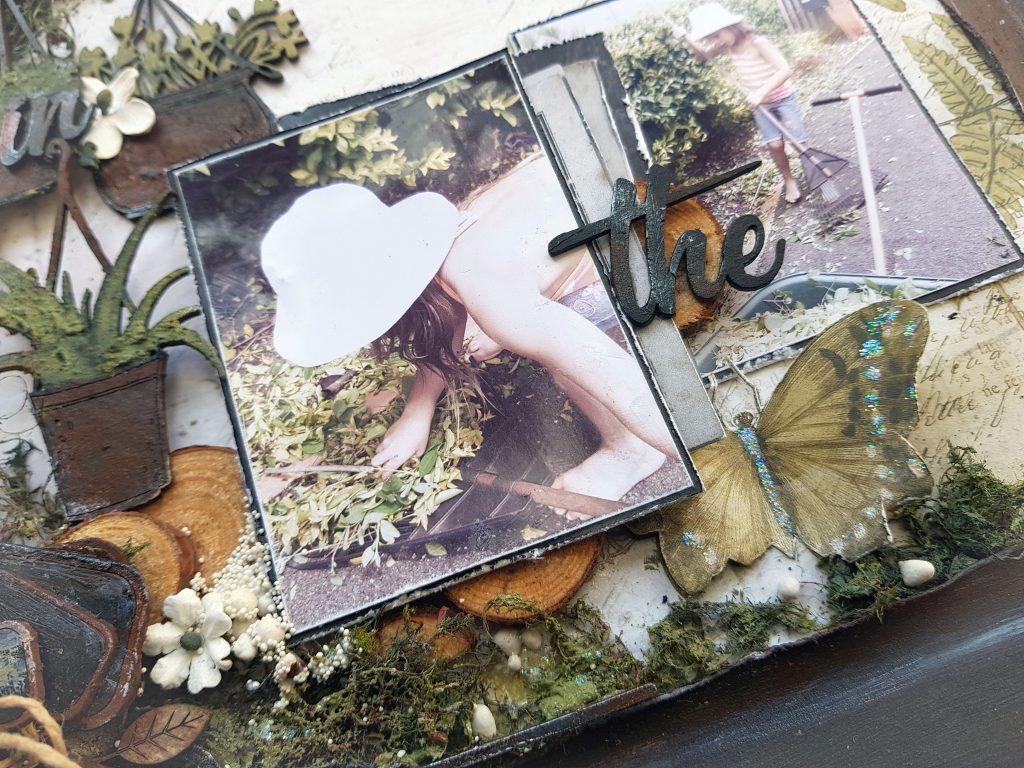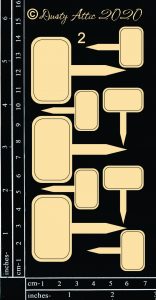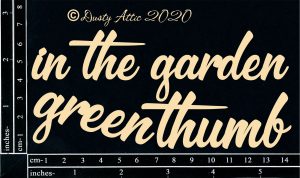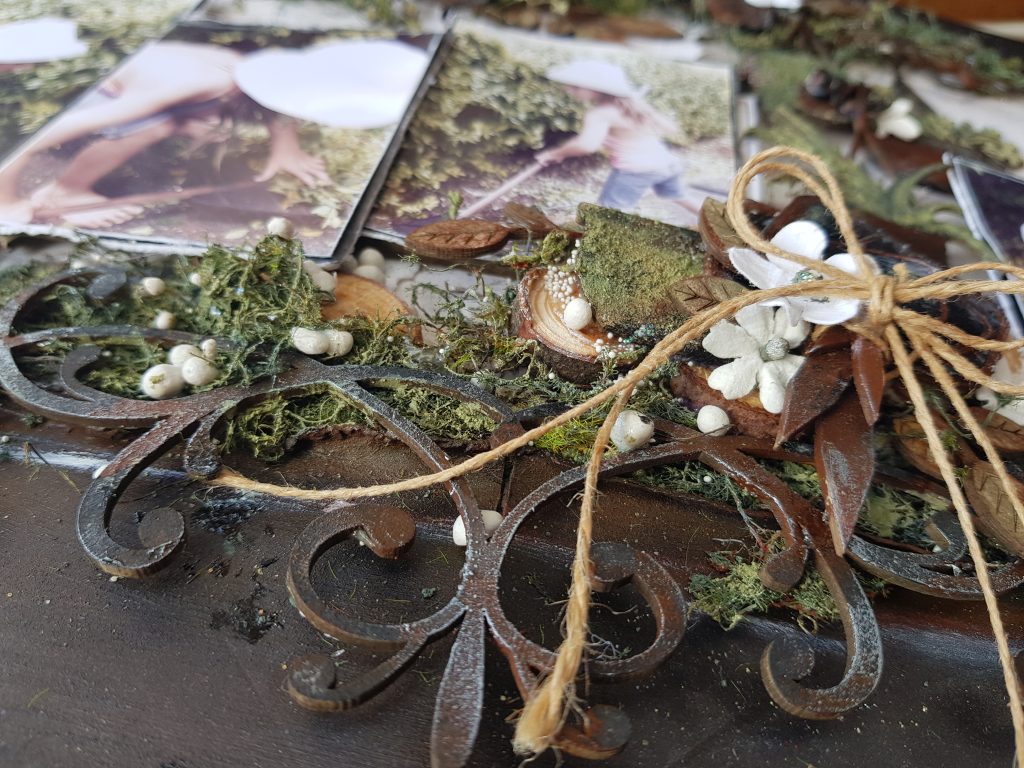 And above you will see that I have layered up all the cute little plant labels together with a twine tied bow. They were so cute. I just couldn't get enough of those. I coloured them like a chalkboard almost. The rust paste on the outer of the labels with the black gesso in the centres. They were layered up on the large Planter Pot from the below collection below.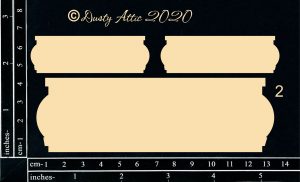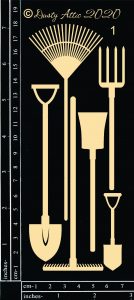 Above and below you will see the Gardening Tools #1….. okay my favourites…. I love how these came out with a little bit of black gesso and rust pastes with the addition of a little Inka Gold. Love them.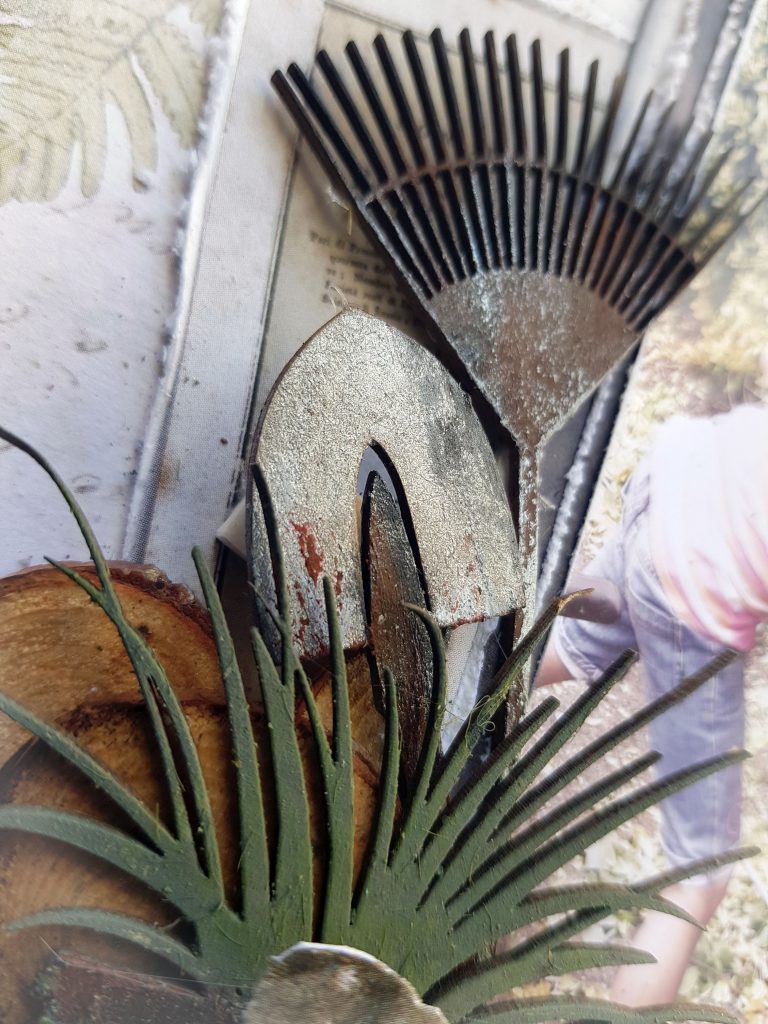 I also added in some of these cute little log pieces that really look so real. They are a great addition I think. I tried to use them like stepping stones along the bottom of the layout. But I ran out. Oh and then there was the Pot Plants again yet another fave…. can you have more than one favourite of course it's Dusty Attic right? Again I added some rust paste to black gesso. Just fabulous.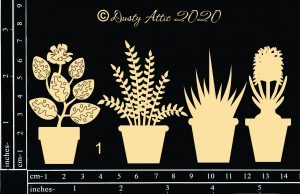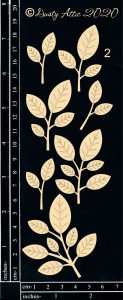 Then there were the little seedlings. Little did I know they were seedling but seriously they look great as foliage added to the top of the page coming out of the Iron Wrought piece. I too love these.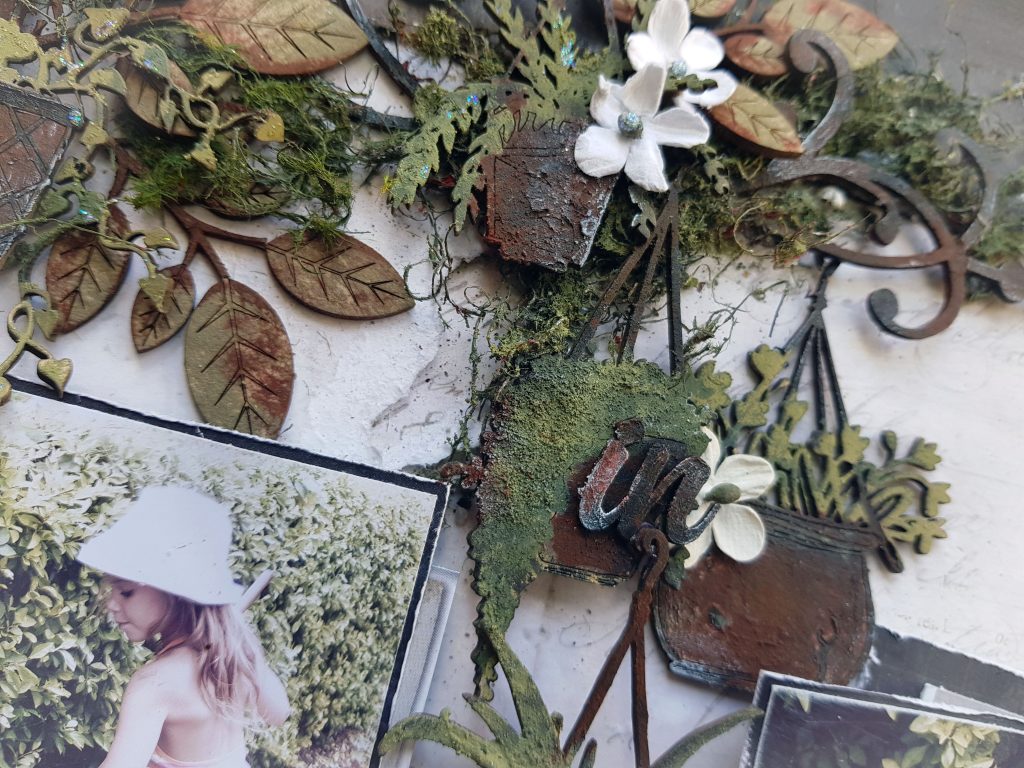 And then the hanging pot plants. Love them and they are so amazingly detailed. I loved colouring them up and highlighting the embossed areas. You could go crazy using so many details but I wanted to keep it as simple as possible.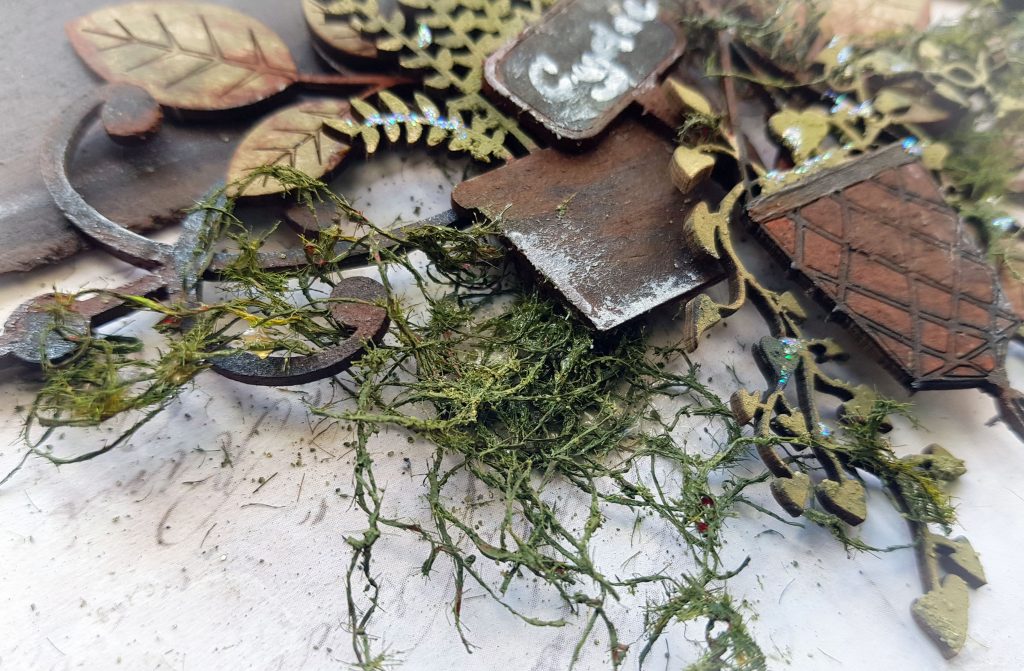 I added in some additional moss fibres. Well it was actually Christmas fibres but I changed the colour of it up as it was quite sparkly. I added this to the top of the wrought iron as well as to the base of the frame work.

And lastly the Iron Garnish #1
I used two pieces of this chipboard. The top piece was cut into 3 so that it gave the look of being long than the bottom one. Again these were dressed in black gesso, Rust pastes, and inka gold.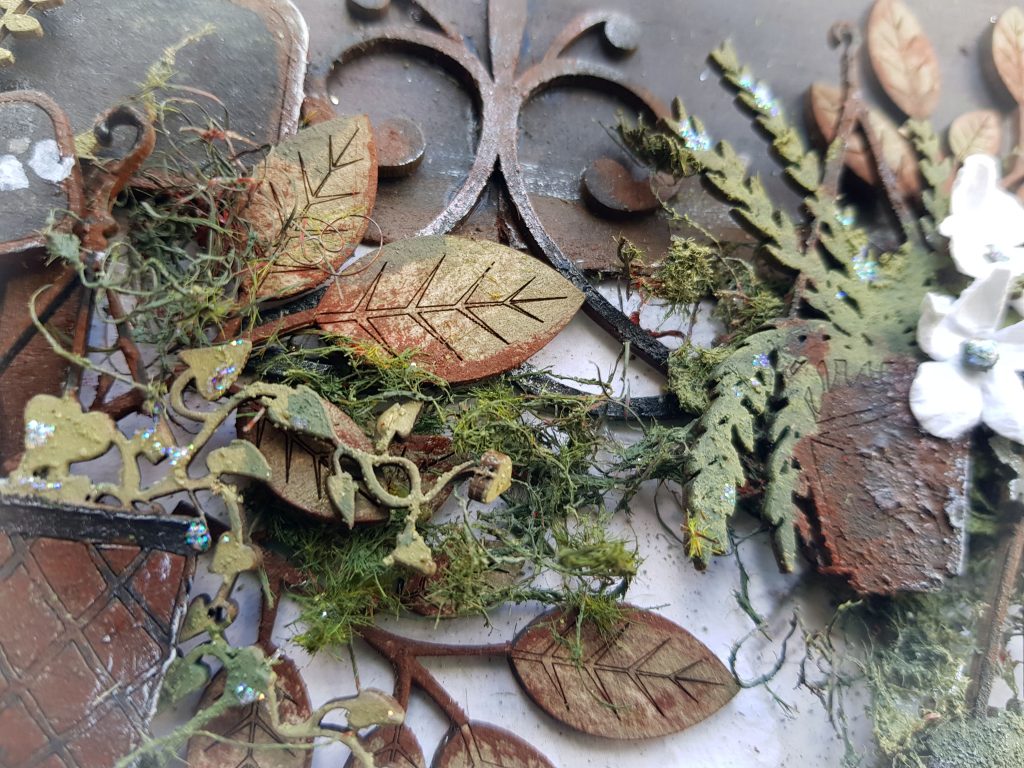 The other products used for my project are:
49andMarket's Vintage Artistry
49andMarket's Serendipitous Backer Card
49andMarket's Garden Seeds flowers
Liquitex Black Gesso
Liquitex Clear Gesso
Viva Decor – Rusty Rust Effect Paste
Viva Decor Rusty Patina Copper Rust
Viva Decor Rusty Patina Oxyd
Viva Decor Ice Blue Inka Gold
Ranger Distress Ink Bundled Sage
Ranger  Star Dust Stickles
Art Basics 3D Gloss Gel
Art Extravagance Rust Effect Paste Green Grey
Art Extravagance Rust Effect Paste Dark Olive
Art Extravagance Rust Effect Paste Moss
Miscellaneous Log pieces
Art Extravagence Art Stones in 3 sizes
White Paint marker
Green Christmas Fibre
Well that is all from me today. I hope I have inspired you in some small way to challenge yourself to do a double layout again some time.
Until next time stay safe and take care.
Teen x