Hello and a huge welcome back!
As promised I have my second layout designed for design teams 49andMarket and the Dusty Attic.
This is …………………"Never Stop DREAMING"I hope you enjoy it !!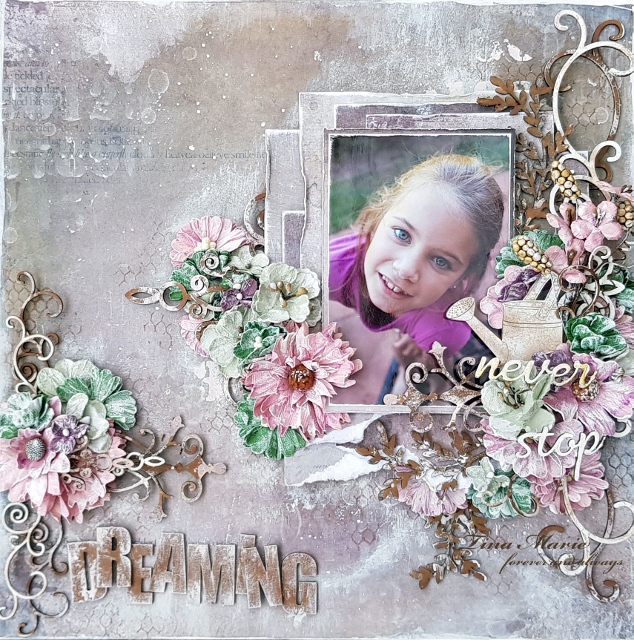 My inspiration from this project grew from one sheet of paper in the Tattered Gardens collection, the Playground. Of course there are many beautiful pieces as with all of Janene's collections, but this one I really gravitated to.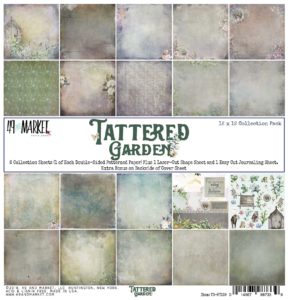 TG-87339-12×12-Tattered-Garden-Collection-Pack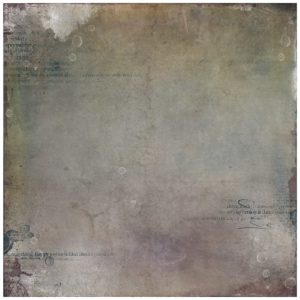 Tattered Playground – A
I used two sheets of Playground, using some of the B side for the layering of my photo.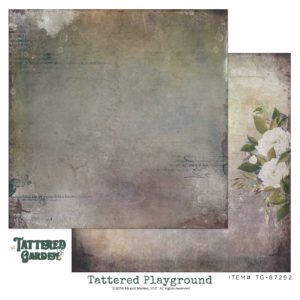 Ok so I really love my chipboards and I have used a number of pieces some of the my older favourites and some new releases. I just couldn't decide on the colour for my chippies. It really was difficult but in the end I just threw my hands in the air and used them all. I had some previously dressed and decided that I would just use all of the Ornamental Trims. I have cut them and layered them amongst the layers of paper and flowers as you will see in the close-ups below.

Ornamental Trim Set DA1347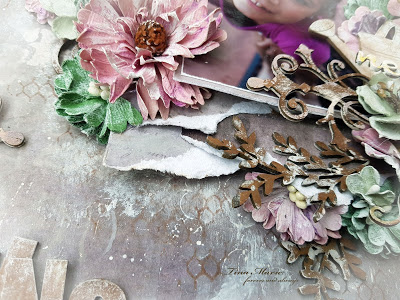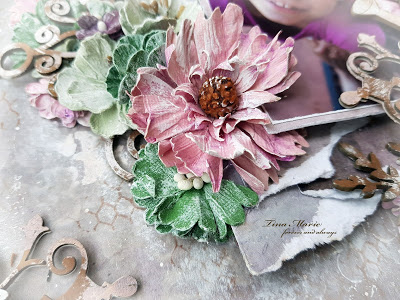 My background work was stencilled I promise. I used the Numbers Stencil below. You can see the 3 peeping through on this close-up above. I just go carried away with my embellishing that the stencilling are became less. Well that happens often but I really do like this stencil. Will be using it again.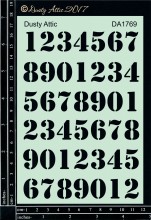 Number Stencil DA 1769
I have also done some random stamping using Gabrielle's Crackle Stamp Set.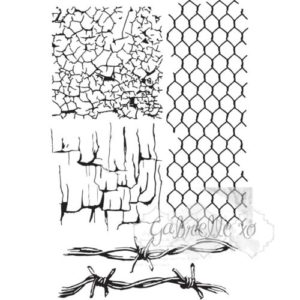 And I know I love my flowers but who could resist. I have used many collections to complete this project. I wanted it to be as pretty as my girl.
I have used lots of flowers here from the new release flowers of 49andMarket in many different colours. And I simply couldn't stop adding as you can see.
The flowers I have used are: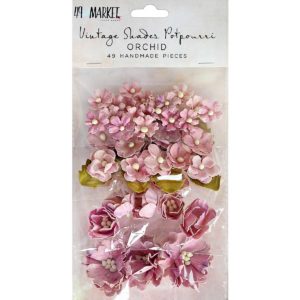 Vintage Shades Potpourri Orchid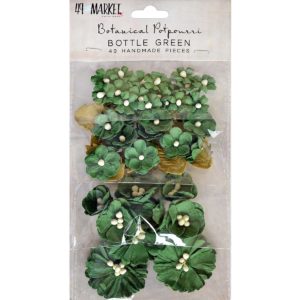 Botanical Potpourri – Bottle Green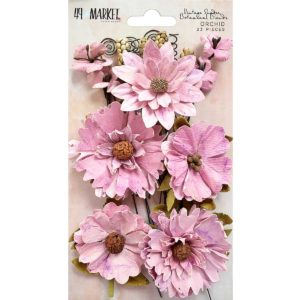 Vintage Shades Botanical Orchid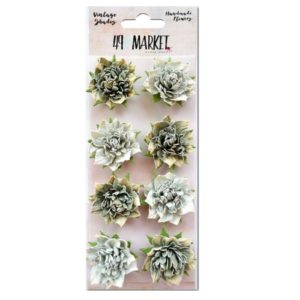 Vintage Shades – Sage Blossoms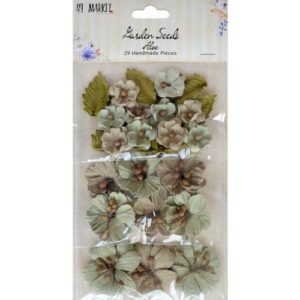 Garden Seeds – Aloe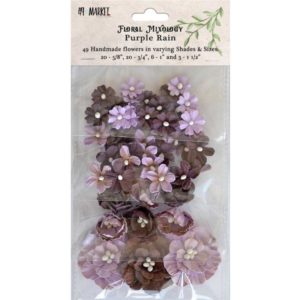 Floral Mixology – Purple Rain
And I also have some more close-ups for you below.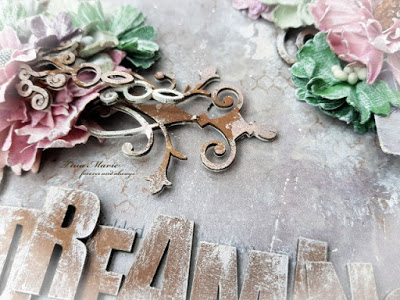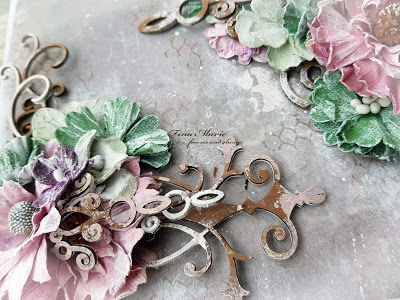 The French Flourish that you can see here above really is an old favourite. It is so elegant and very easy to use. I have layered this piece here with two other pieces of the Ornamental Trim. I just cut these pieces of chippies and tucked them into my flowers.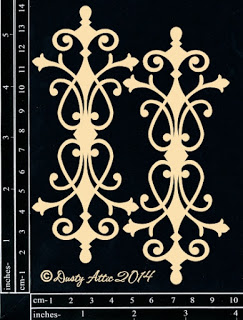 French Flourish DA0273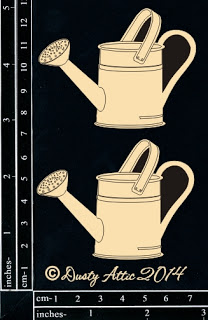 Watering Can DA0403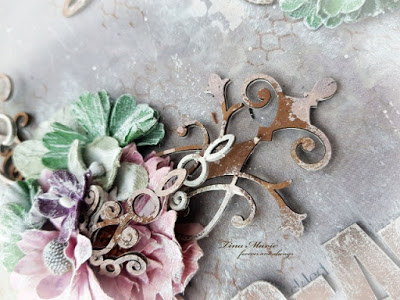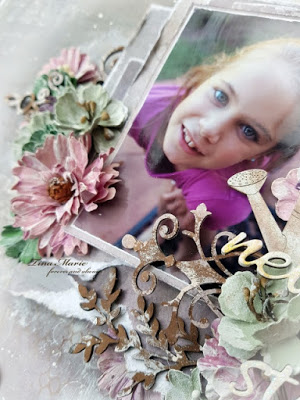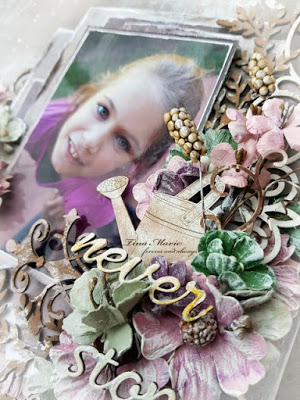 And how cute is the Watering Can. I love this it is just the perfect addition to any floral layout I think. For this project I simply primed my piece with gesso and then I did some inking with Vintage Photo Distress Ink.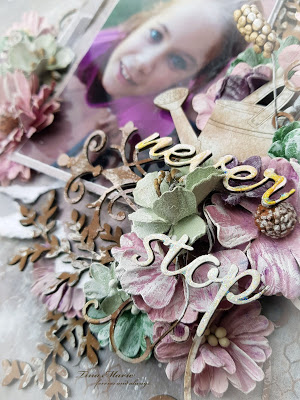 I also tucked in some DA branches.

Laurel Sprigs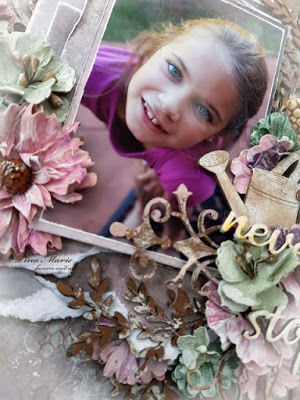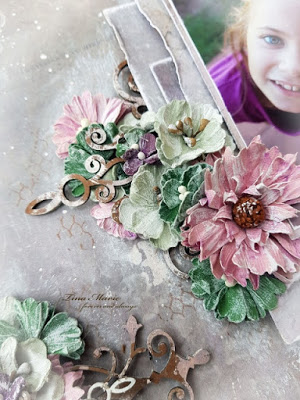 Well that is all from me for today! I hope you enjoyed my project.
Until next time take care.

Tina x