Hello and welcome back to my blog today. I am back yet again with another post, this time around for 49andMarket. I have been challenging myself of late to create with those papers that are still left amongst some of my older collections. This project was created using the older collection of Sweet Reflections. At the time that this paper was released I didn't really concentrate on it too much at the time. But now I am absolutely loving it. All the purple's and pinks and for this one I added in some gorgeous shades of blue and greys. I hope you like it…… this is "Best Friends".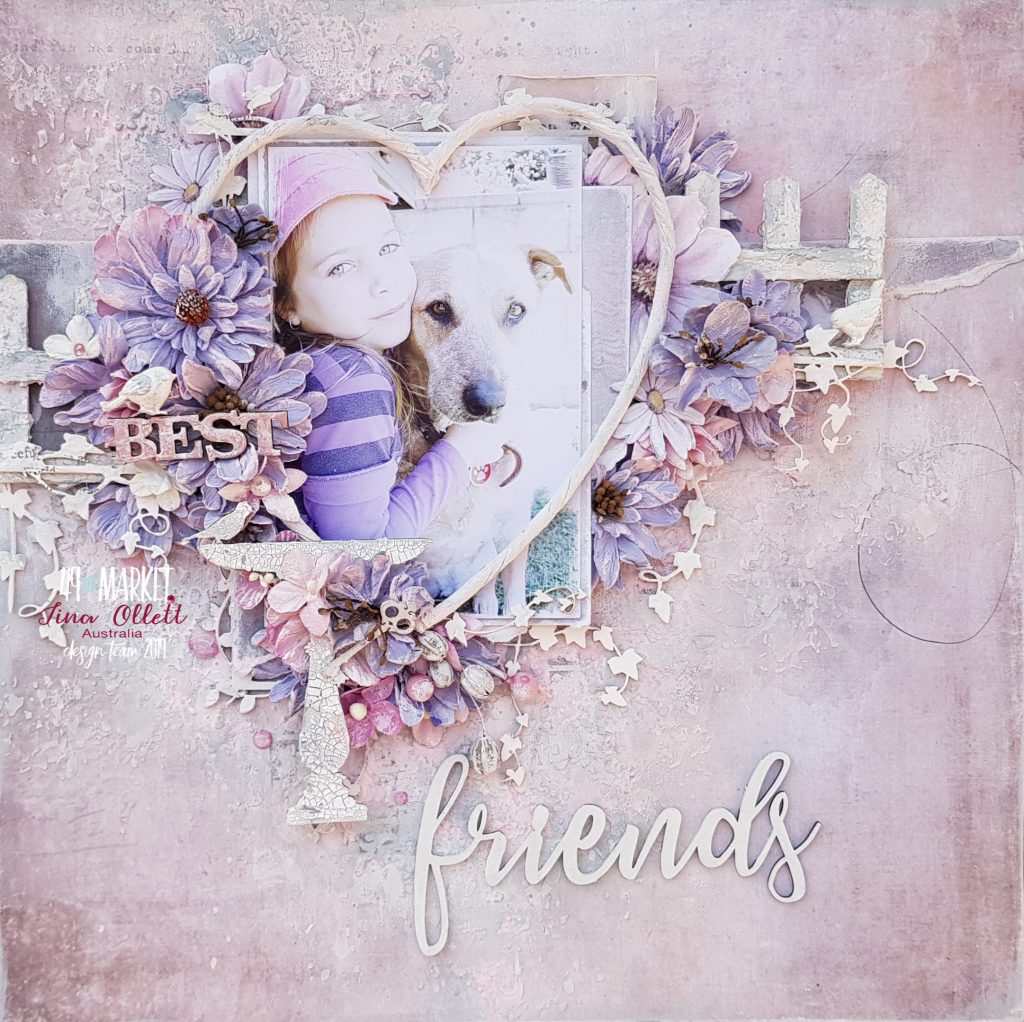 My starting point for this project was this gorgeous piece of patterned paper. Oh my. I don't know why on earth I would not have used it before this but now it is time. I have used two sheet of this. Did some tearing and also some fussy cutting of the flower images to add to the project.
The background paper was the "B" side which I always gravitate to it seems. I started by prepping the piece with a clear primer and then added in some texture using Dress My Crafts stencil DMC-15. I sprayed and coloured the background a little more to get a pretty effect. I used Inka Golds to do this along with some acrylic paints. I popped some of the paper underneath my photo and layered it up amongst another torn piece of the darker grey and two pieces of some cute wooden picket fences I had in my stash.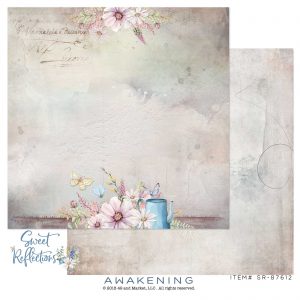 Moving along I molded some left over paper rope from an old pack of my 49andMarket Seaside Blooms into a heart shape. This was a little fiddly but I got there in the end. I coated it with two coats of white gesso and coloured it with Inka Golds and acrylic paint and adhered it to the top of my photo.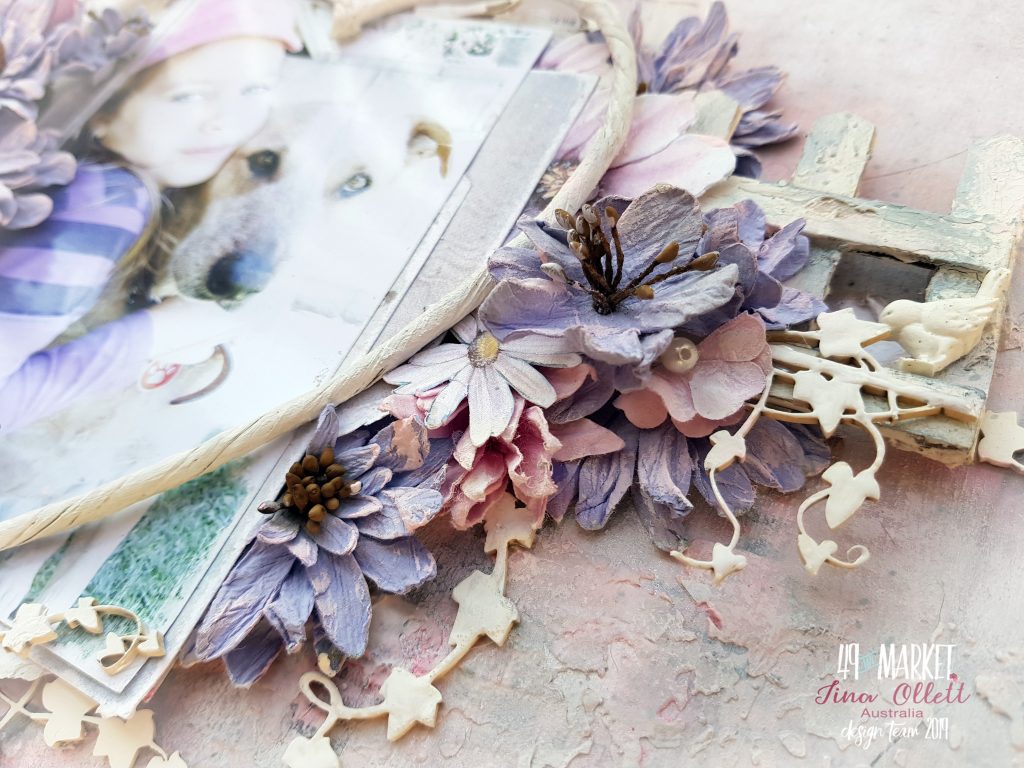 As I said previously before I am trying to use up some older pieces that I have laying around. (And oh my goodness there is a LOT !!)….. This next piece of leftover was this gorgeous vine from a pack of 49andMarket's Archival Board pack of "Love". A gorgeous delicate piece just perfect for this project. I cut it into a number of pieces and elongated it to fit around the photo so to frame it. I also added in the little key from this pack amongst the little cluster with a gorgeous chipboard favourite from Dusty Attic…. the birdbath. I crackled the birdbath in white crackle and then coloured it with some Iceblue Inka Gold.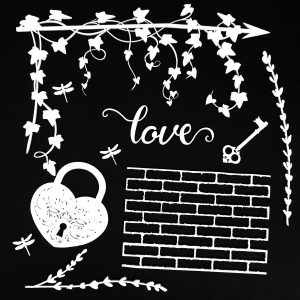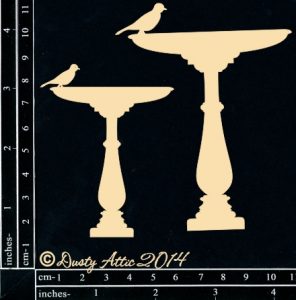 Amongst my layers of papers and chipboard I have added in some cut out images of the flowers from one of the patterned paper sheets. I tucked them in around the photo. And then amongst these I have added in of course gorgeous gorgeous new release flowers. The colours in the new release flowers are beyond gorgeous. I have used a few differing packs but not all of the flowers from each. I just wanted this project to be extra especially pretty for my daughter as I will hang this in her room. Our furfriend Sam in the photo has not been with us for over  8 years now but I think of her often. And when I see a photo like this of her it really makes my heart heavy. She was a very special friend. Through thick and thin as they say. Through the storm of moving many times, of 3 new babies, other dogs etc etc she was always there. We miss you Sam !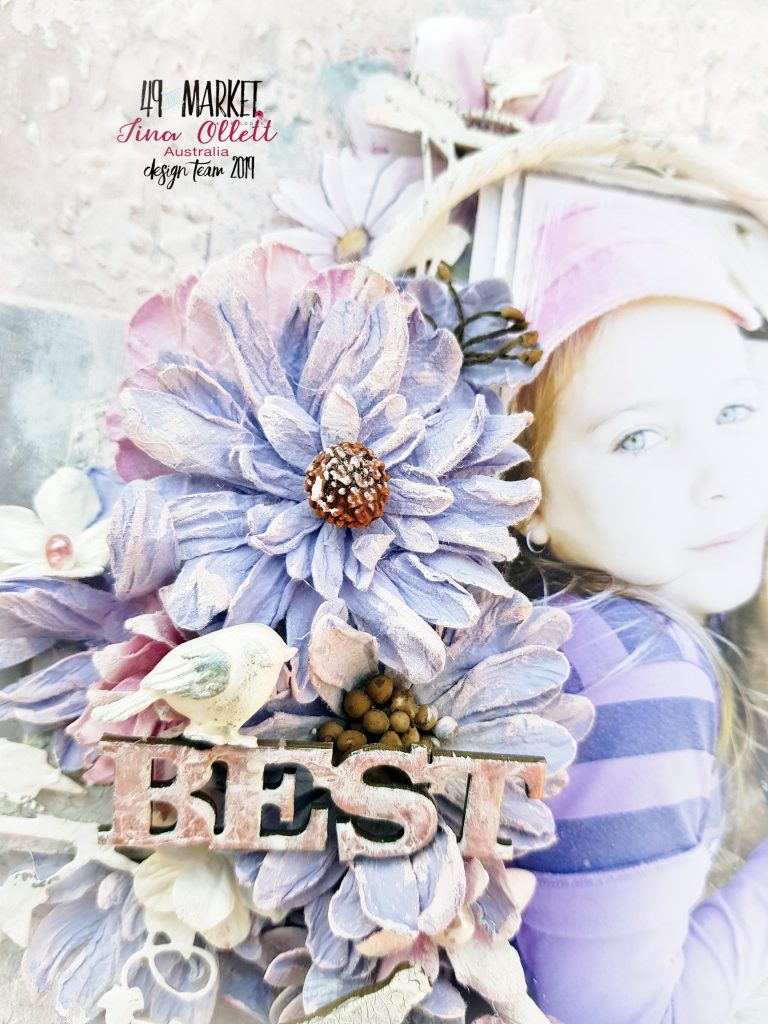 Below are the new release flowers that I have used to layer and create with this page. Absolutely gorgeous aren't they??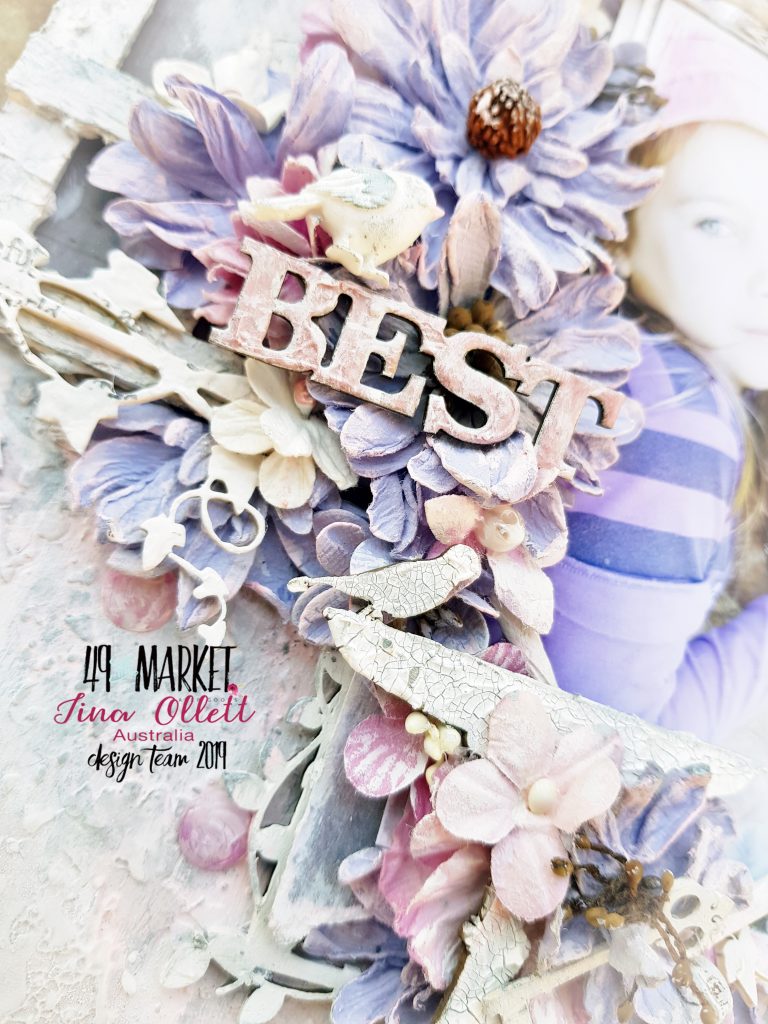 I have also sneaked in a couple of the teeny weeny flowers from the Snow Botanical Potpourri pack and some from the Wildflowers in the punch colour which fit the colours perfectly.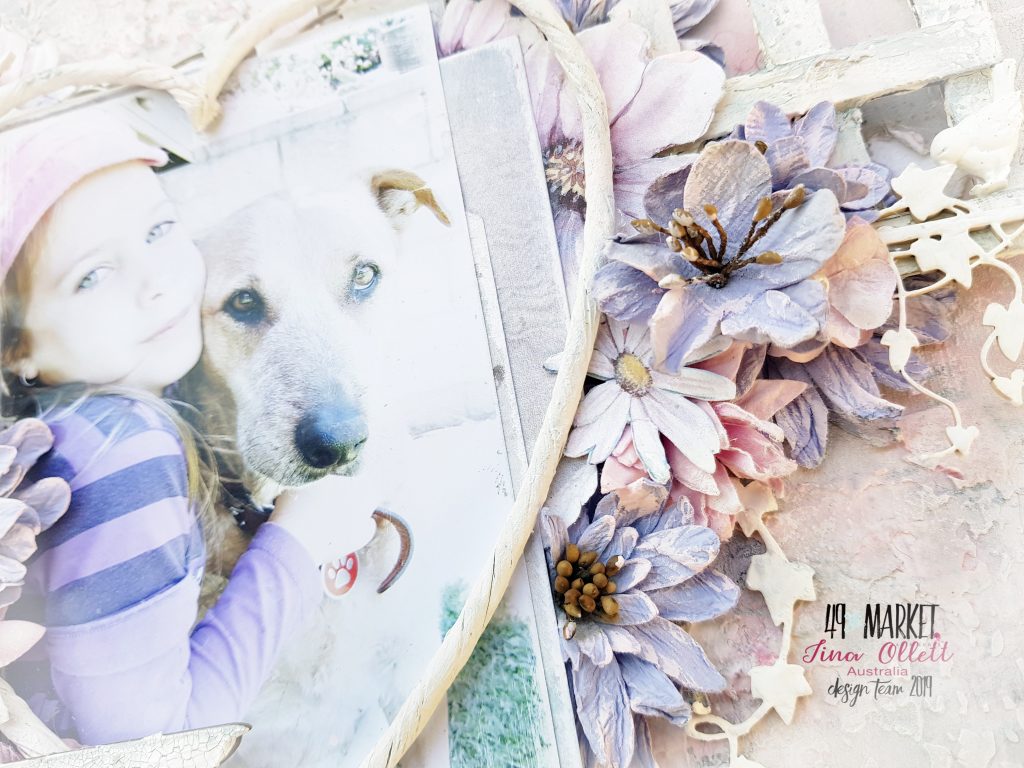 And from another angle…..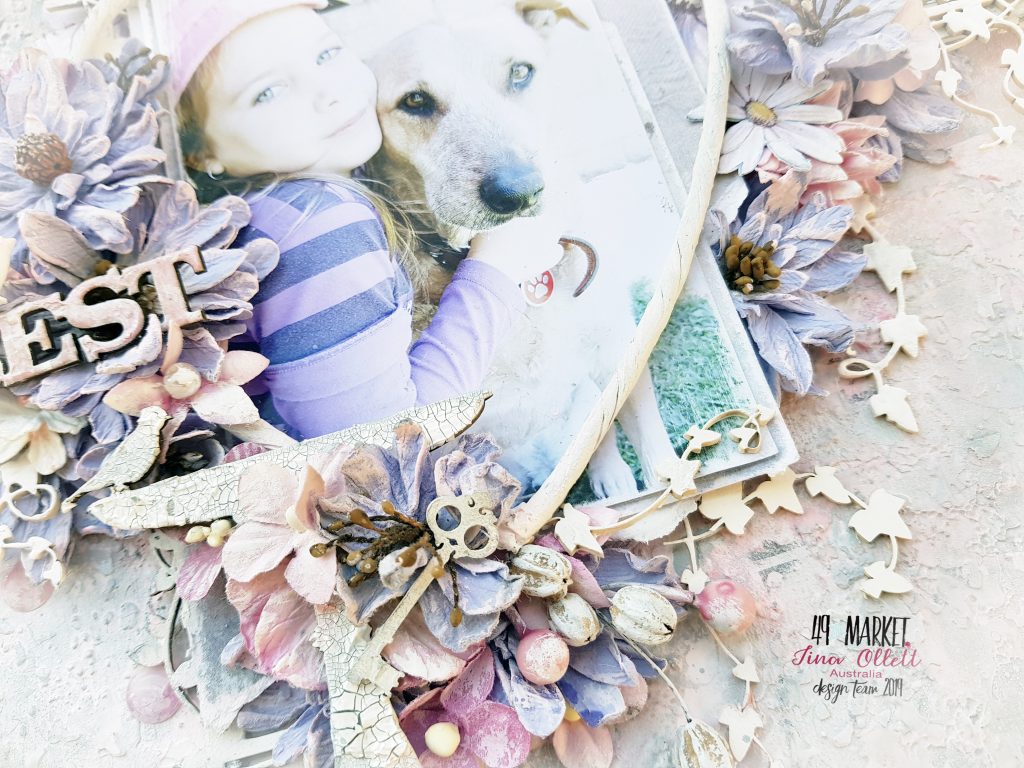 That is all from me for today but be sure that I will be back very soon with some more to share with you. Thankyou so much for taking the time to pop by. Have a beautiful day.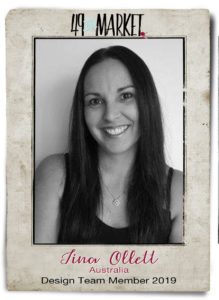 Tina x