Hello and welcome.
Today I am here to share my project "II" .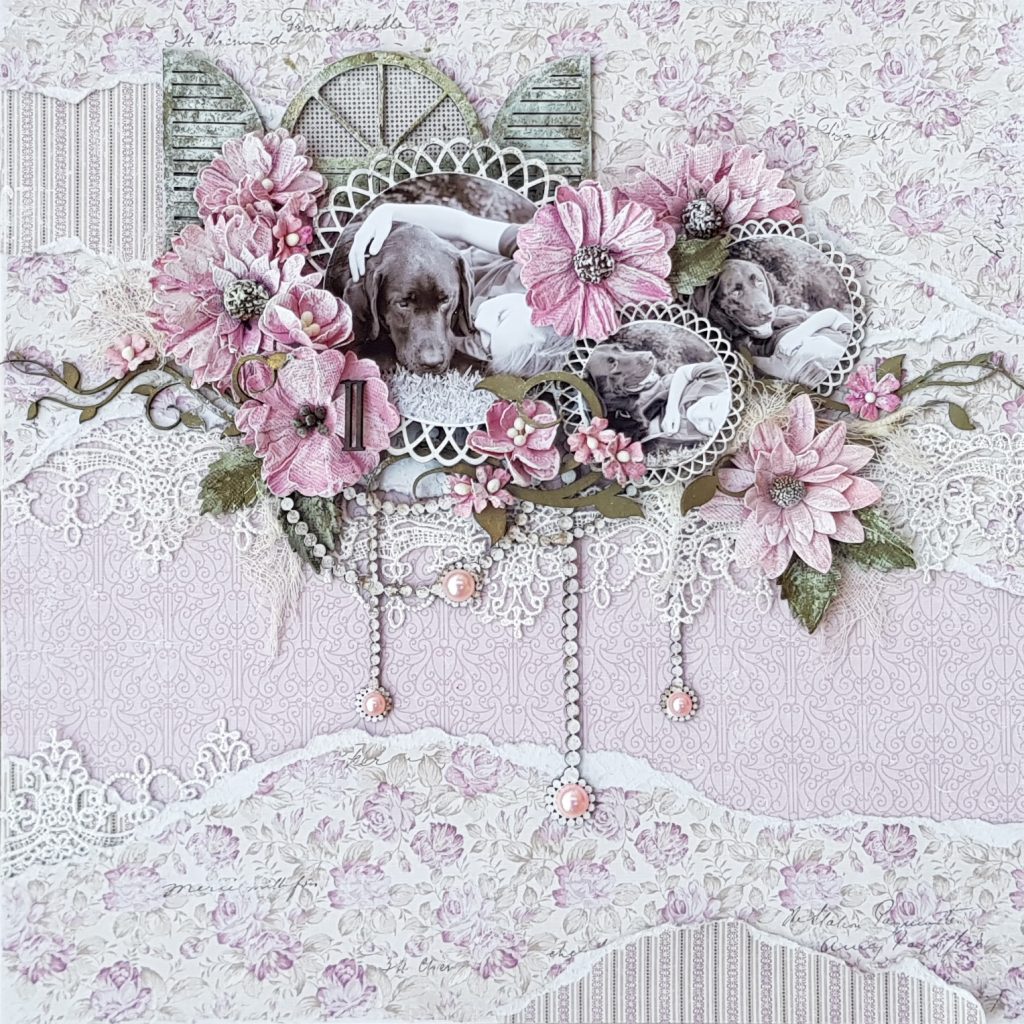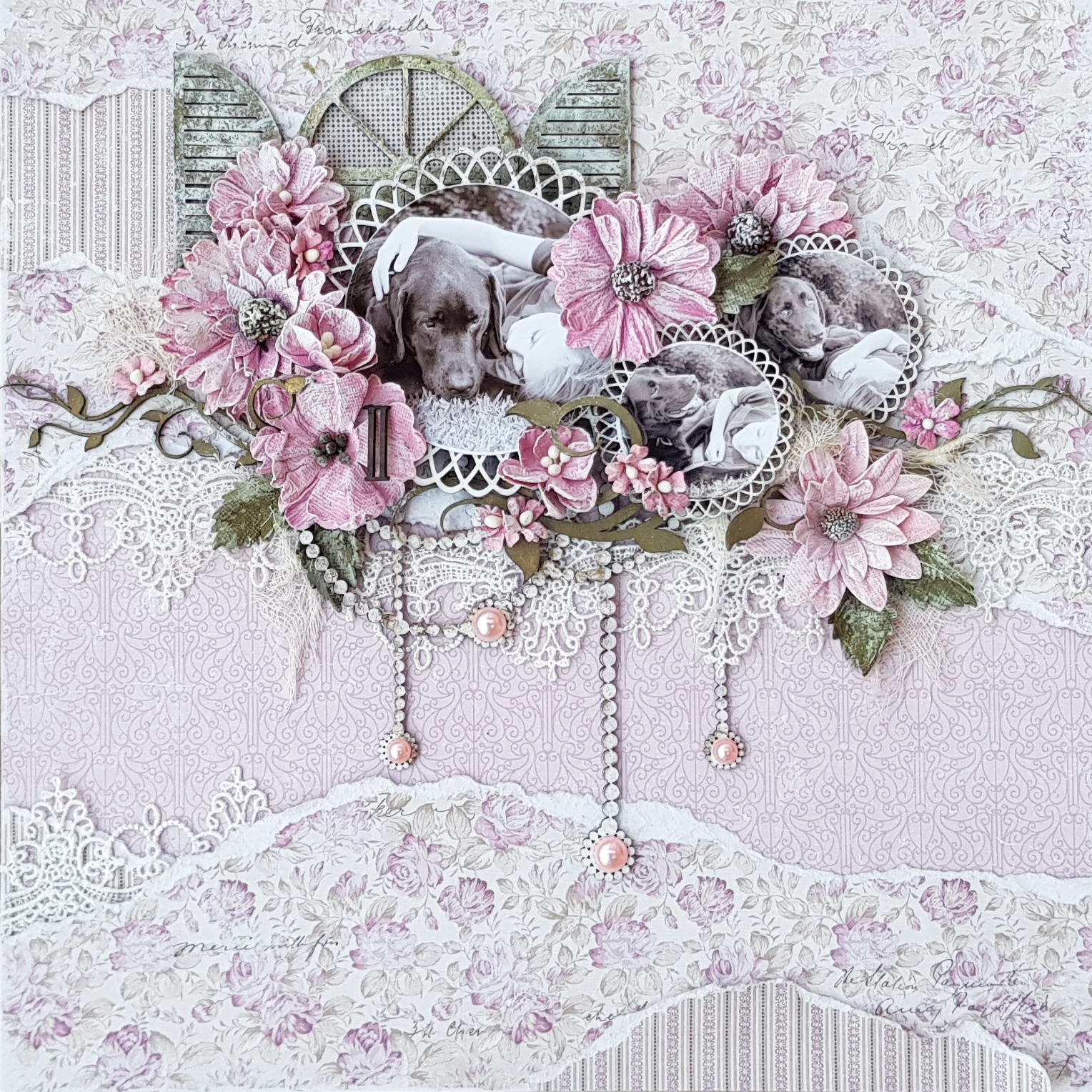 This project was created using papers from the gorgeous Celebration collection in shades of pinks and browns. I wanted to make something very pretty using these cute photos of my youngest and our boy Rafael. They are especially good friends and are often found rolling around out on the grass together in the late afternoons when the sun has gone down. I captured these photos not so long ago and decided to use 3 of them in a series rather than just one photo like I usually do.
I have used pieces Jubilee back and front by tearing sections and layering them top and bottom of the layout over the top of To the party. I kept this layout very clean and have only used medias on the Dusty Attic chipboards .
Below is the Swirly Vine I have used to lay the doily chipboards over. This piece was spritzed with Olive Vine Glimmermist. Once it dried completely I then sponged over a little White Gesso.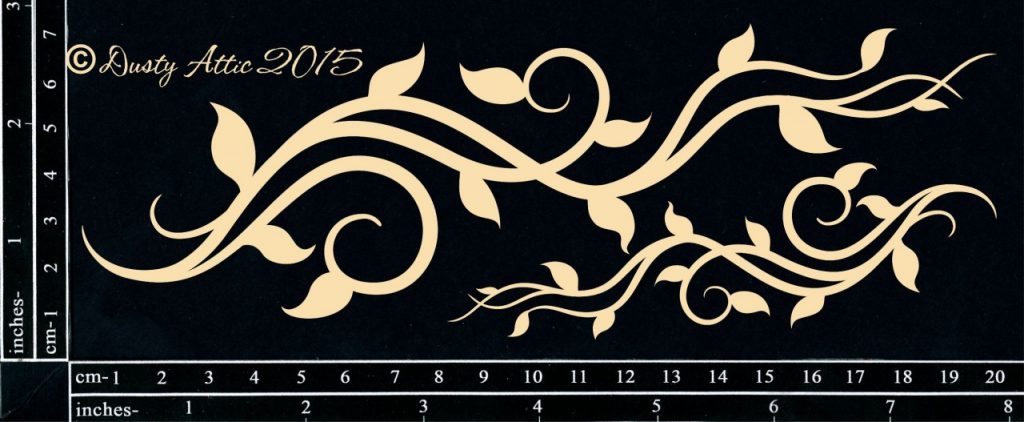 The Window with Shutters (one of my absolute favourite pieces) was dressed similary to the vine but I used a lot more white gesso over the Olive Vine spray. I also used a little Walnut Stain Ink to add a little more darkness to it.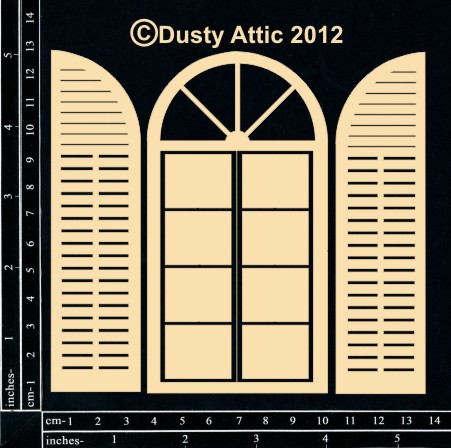 The photos I chose were changed to sepia colours and cut down and laid inside the Doily #1 chipboards to help highlight and frame the photos. It was a bit of a process to get the photos the exact size to fit the smaller doilies but persistance paid off. Each doily was primed with a couple of coats of white gesso and inked with Walnut Stain Distress Ink.
Doily #1
To help embellish my layout I have used some gorgeous coordinating Vintage Shades Botanical Blends in Orchid flowers from 49andMarket.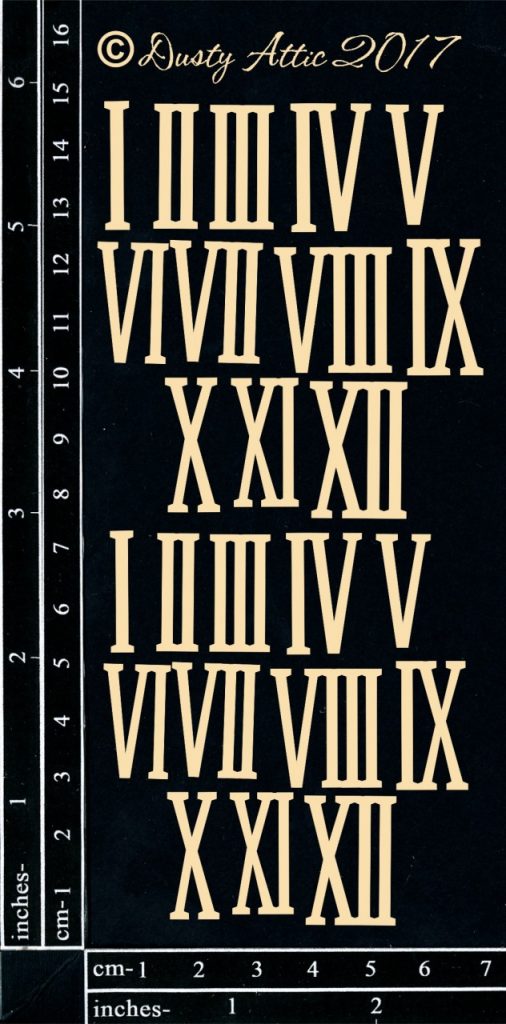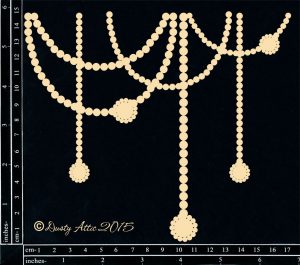 I popped a little lace in between layers of the papers and also I have used some tea stained muslin to help keep my layout soft and shabby. The Elegant Pearls were dressed in gesso and inked with Walnut Stain too. I popped some pretty pink pearls on the pearl drops.  And lastly I popped the numeral II over the top of the flowers using this as my title for the two of them.
I have also added in some pretty pearls to help compliment my layout.
Welll that is all from me today. I do hope you enjoyed my post today.