Hi there friends! Im here today to share a Moodboard inspired creation. The moodboard is from the Dusty Attic…..have you seen the gorgeous Moodboard yet?? Well if not I have it for you below.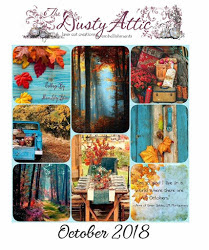 Stunning ! Teal and Autum coloured October Mood Board Challenge. As you may have read we are splitting the prize this year and having TWO x $50 Vouchers to the Dusty Attic website, so there is more chances to win. Remember the only criteria is that is has Dusty Attic chipboard on your creation. Just add your link, name and county here and have fun with the board, and happy Creating everyone.
Isn't it just gorgeous. And because I can't resist blue and orange this is what I used from the board to complete my inspired project.
This is titled "Here"……….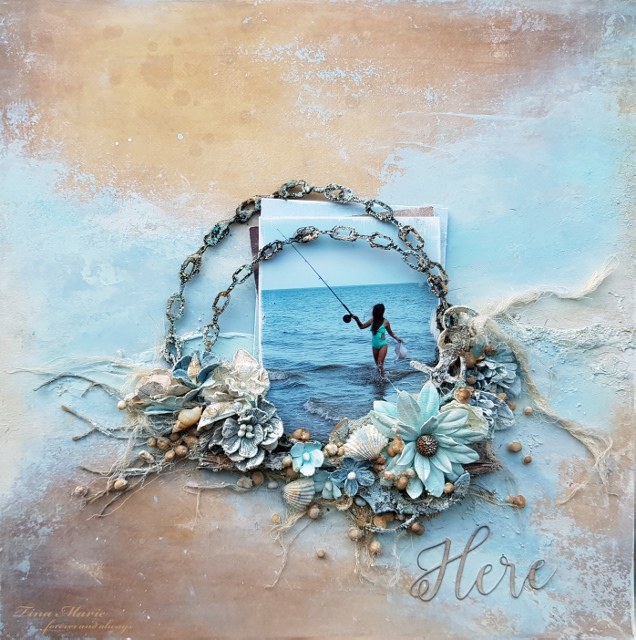 Okay so you already know how much I love to create with beach themed photography. I just can't help myself really. Using this moodboard made my creation time even quicker than normal and of course using a few Dusty Attic Chipboards and 49andMarket papers and flowers makes it even easier!
To do this background work I emptied Dusty Attic's Dusty in Colour Acrylic Paints to my splat mat and let them sit for a bit to allow them to dry. You can alternatively add these acrylics to other medias of course, for example Texture Pastes or impastos to give a thicker consistency.
So using a small palette knife I created textures onto Falling Leaves from the Rusty Autumn collection with my Dusty paints and I also added in a little gesso to help things along also. I tried creating waves following on from my photo. If you look very hard you will see this in my project photo below. It was more noticeable before I layered over my embellisments of course! I also used these Acrylic paints to colour the art stones, shells and I also changed up with flowers used for this project.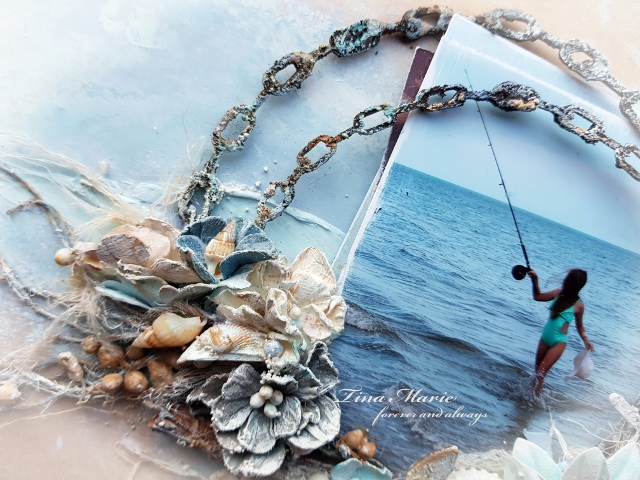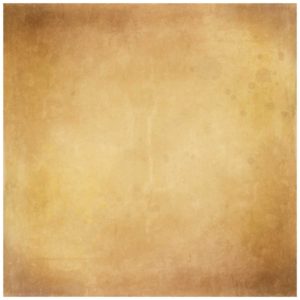 Then using The Lookout from the Sand and Sea collection I used these pieces to do some matting along with a second piece of the Falling Leaves paper.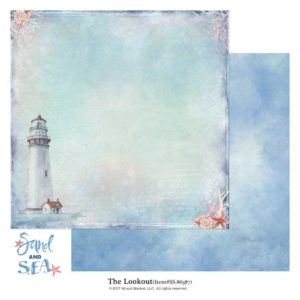 Above at the left here you can see the Jute Cording has been used to represent the waves on the beach. I coloured up a few pieces and pulled the strands apart to give them a worn look.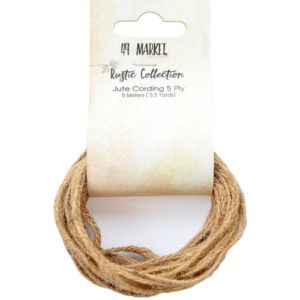 I also added in some Art Stones and coloured them in Dusty Attic's Gingernut Acrylic Paint. Here you can see the texture on the Anchor. Using a number of differing mediums can give great outcomes on your chipboards.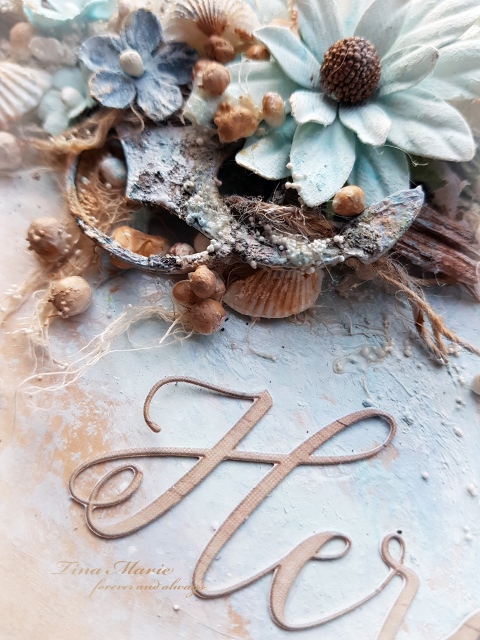 The title "Here" was taken from the Captured Adventures Laser Cut sheet below.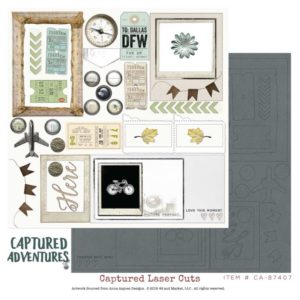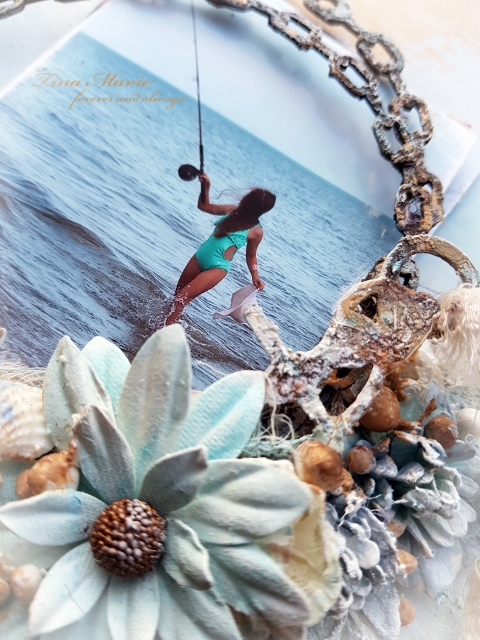 A closeup view of the textures produced on the Circle Chains. Love the outcome here.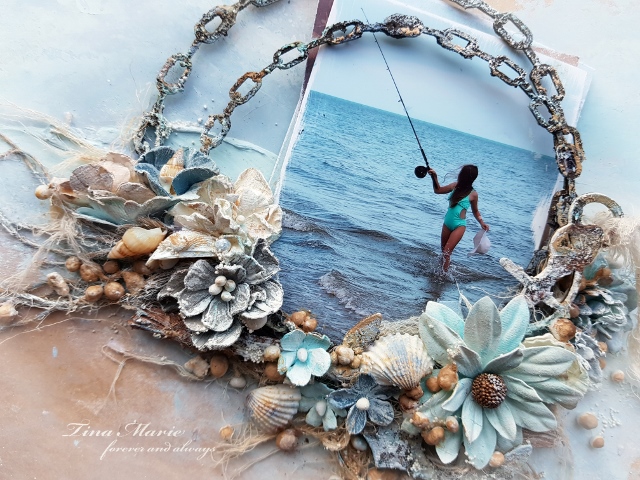 As you can see above I have used the new release chain cirlces and now I need more. They are just gorgeous and perfect for framing a photo. Here I used two in differing sizes to complete a frame around my matted photo. These chain circles were dressed with Rust Paste and also Dusty Attic's Acrylic Paints – Oceania, Bisque, Faded Denim and Gingernut.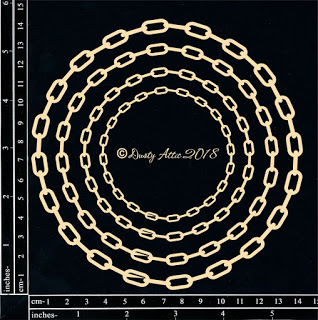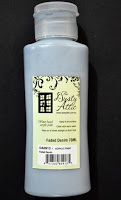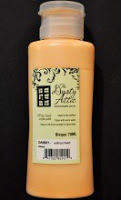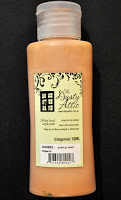 I also dressed the large anchor the same as previously stated here.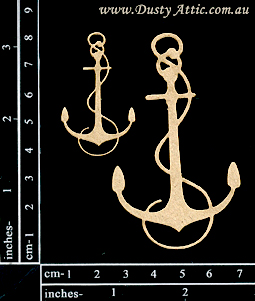 Below you can see the Textures created using Rust Paste along with Dusty In Colour Acrylic Paints on the Anchor.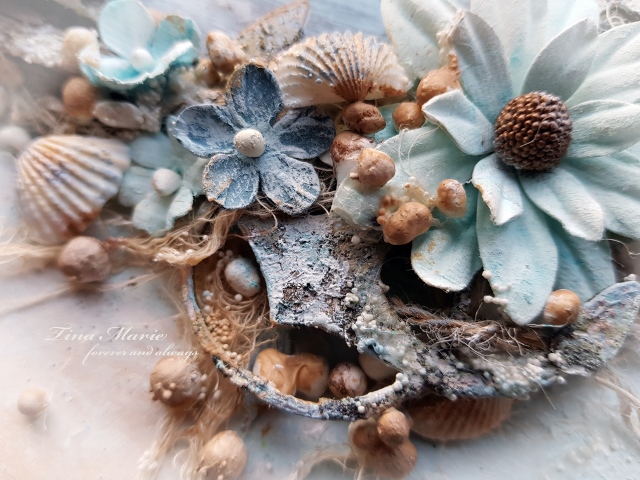 You can see below that I have layered up the Chain Circles around the photo here. And you can also see the textures made on the background paper. I also added in some tea stained muslin to compliment my layout along with some store bought sea shells.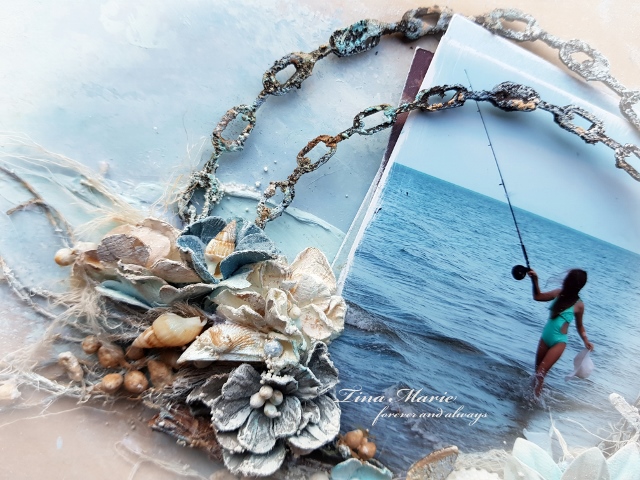 Well friends that is all that I have for you today. I hope this project has inspired you to create something of your own to enter into this months Moodboard Challenge. I look forward to seeing your entries ! Until next time take care and big hugs.xx