Hello and welcome friends. I am with you today to share my next project for 49andMarket with you.  And once more I have something a little beachy. I think I am really missing the glorious warm weather we usually have here in Queensland. For the past week or so I have had to use the woodfire and that has not happened too many times in the past few years.  So I feel this is the reason I have been creating beach themed projects. I am really looking forward to the warmer weather coming soon I hope. So without further ado this is "Beach life".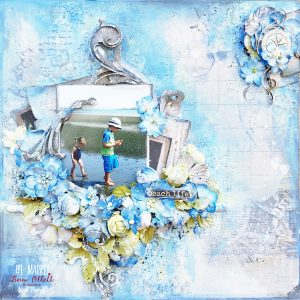 For my project, I have used the Old School Mini Collection. I really do love this collection. It has such a playful feel to it. And of course as most of the 49andMarket collections go, they are very versatile. Of course the inspiration for the project came mainly from my photo, but this time around more from the papers. I decided to use up the laser cuts from the extra sheet in the collection pack. I have torn these and layered them up behind my photo to start off with. I also added textures to my background paper using Slate Modelling Paste/ Gesso through a Distressed Grid Stencil also from Dusty Attic.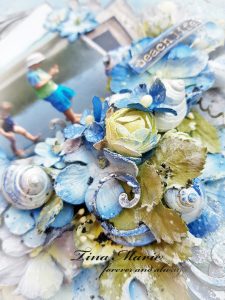 I have used a large Dusty Attic Chipboard that is a favourite of mine to frame the layered papers. This was coloured using Inka Golds and Acrylic Paints.Once all of the applications were dried I did some stamping using Gabi's Tile stamp along with the lined stamp from Gabi's Stoic Stamp Set with Distress Ink in Black Soot.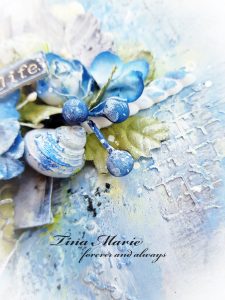 The favourite part of making this layout for me was the clustering of the flowers. For this creation I have used several packets of flowers. 1 pack of each of the Wildflowers in Cobalt (such a beautiful colour) and Country Blooms in the cobalt. I have also used the Country Blooms in Cloud and coloured them up using some Lime acrylic paint. I have also added in a couple of the Wildflowers in the storm colour. Amongst the layers of flowers I have added in some beach find shells and also I added on some Black Glass Glitter to help the colours pop a little more.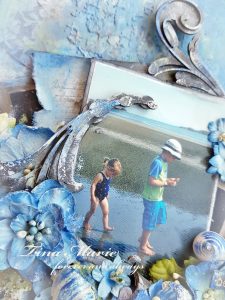 At the top right of my project I have a second cluster. Again I have used the little book pages from the cut out sheet to create the start of my cluster. This was cut in half and layered. On top of these pieces I added in the smaller piece of the Decorative Scroll chipboard with the addition of mini Compass. I added in more flowers in and around this cluster to complete it. And to finish the project my mini strip title was added over all the glorious flowers.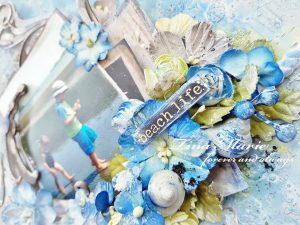 Well that is pretty much all from me today. I really enjoyed the Old School collection. Next time I hope to share something using the Ethereal Mini Collection. Maybe something a little shabby. Until then take care and I hope you get some craft time in.
Teen xo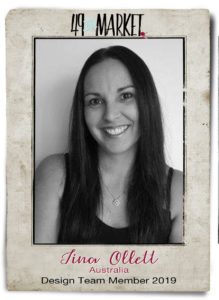 49andMarket Products Used
Old School Mini Collection "Penmanship" paper
Old School Mini Collection Laser Cuts
Country Blooms Cobalt
Country Blooms Cloud
Wildflowers Cobalt
Wildflowers Storm
Stamps – Gabi's Tile Stamp and
             –  Gabi's Stoic Stamp
Other Products Used
Liquitex Clear and White Gesso
Modelling Paste Slate
Dusty Attic Stencil – Distressed Grid
Dusty Attic Chipboard – Decorative Scroll #1
Dusty Attic Chipboard – Mini Compasses
Dusty Attic Chipboard – Title Word Strip
Dusty Attic Stencil – Distressed Grid
Kaisercraft Acrylic Paint – lime
Kaisercraft Acrylic Paint –
Black Soot Distress Ink
Glass Glitter Black