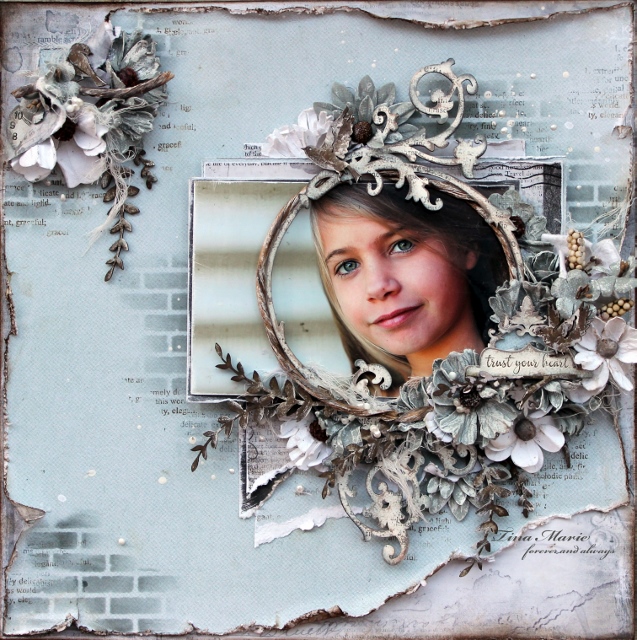 Hello friends and welcome back. Today I have a project created with one of my most favourite collections Captured Adventures. This project "Trust your heart" has lots of layers of this collection torn distressed and sanded to highlight my gorgeous photo.
Papers used from this collection are as listed below.
Wander Aimlessly. I used a couple of Sheets of this and a sheet of the faded memories.  I did a lot of layering of papers around my photo and I did some tearing and distressing on my background page.
And the beautiful flowers of 49andMarket
Botanical Blends in Shadow
And Blossom blends in Cotton
Once my bacckground papers were adhered and distressed I did some stencilling using the Dusty Attic Brick Stencil with Black Soot distress Ink.  Over this I added in some random stamping using some of the gorgeous stamps from Gabrielle's Ethereal Stamp Set.
And over this some splatterings of white gesso watered down.
I have also used some beautiful chipboards from the Dusty Attic to help embellish and layer my layout as you can see above.
The flower cluster at the base of my photo. I love the colour of the Shadow. It really is a gorgeous colour and a great match to compliment this collection of papers.
Above here you can see all the gorgeous flowers from 49andMarket that I have used here. The centres of some of the flowers were changed up using paints and inks.
And as you can see above I have used the paper hoop from the Blossom blends flowers pack to help frame my photo. I pulled it out of its original circle and twisted it and glued it to the frame of my chipboards. These paper hoops are just awesome to add to any layout to help highlight a element or photo.